Pheasant Amerind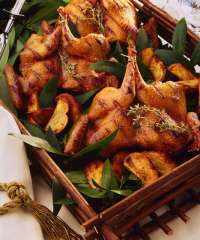 2 lb Pheasant hen, cleaned (up to 2 1/2 lb)
1 Onion, quartered
1 Bay leaf
6 Peppercorns
1 sm Carrot, sliced
1 Celery stalk, sliced
1 ts Salt
4 tb Butter
1 pinch Thyme, powdered
1/4 ts Rosemary, dried and crumbled
1/4 c Mushrooms, chopped
2 tb Flour
2 tb Black walnut meats, finely chopped
Split pheasant down the breastbone. Rinse the halves, place in a deep pot and barely cover with water. Add bay leaf, onion, carrot, celery, salt and peppercorns. Bring to rolling boil, then turn down heat and simmer for approximately 30 minutes, or until tender. Remove foam and scum as it forms. Remove bird from broth, reserving the broth.

Using a heavy skillet, saute the halves in about 2 T of the butter until golden. Place birds into small roasting pan or casserole with just enough water to cover the bottom of the pan. Sprinkle with thyme and rosemary. Bake, lightly covered with foil, for 30-40 minutes at 350 degrees F.
While the birds are in the oven, strain the broth and boil rapidly down to about 2 cups.
Brown the mushrooms using the same skillet in which you browned the pheasant. Remove the mushrooms and keep them warm.
Melt the remaining 2 T of butter in the skillet. Add the flour, stirring up the browning from the pan. Cook over moderately high heat until golden brown. Blend in the broth using a wire whisk.
Add mushrooms and continue cooking approximately 1-2 minutes. Turn down heat, cover and keep warm until pheasant is roasted.
When the pheasants are cooked, remove them from the oven and scrape the herbs from the skin. After placing the pheasant halves on a warm platter (or leaving them in the casserole), pour the gravy over the pheasant. Garnish with the chopped nutmeats and serve. This dish is particularly good with wild rice.
——
Wild Rice Pheasant Soup
2 tablespoons margarine or butter
1/4 cup finely chopped onion
1 clove garlic, minced
1/4 cup all purpose flour
1/2 teaspoon freshly ground pepper
1/2 teaspoon salt
4 cups chicken broth, divided
2 1/2 cups cooked wild rice
2 cups cut up cooked pheasant
1 cup thinly sliced carrots
1 bay leaf
1 cup half and half
2 tablespoons dry sherry
In 6 qt. Dutch oven or stockpot, melt margarine over medium heat. Add onion and garlic. Cook for 2 to 3 minutes, or until onion is tender, stirring frequently. In 4 cup measure, combine flour, salt and pepper. Blend in 2 cups broth. Stir into onion mixture. Add remaining 2 cups broth and remaining ingredients, except half and half and sherry. Bring to a boil over medium high heat. Reduce heat to low. Simmer for 30 to 35 minutes, or until carrots are tender. Stir in half and half and sherry. Simmer for 10 to 15 minutes longer, or until flavors are blended. Remove and discard bay leaf before serving.
——
Golden Roast Pheasant
1 Orange
Salt & pepper to taste
1/4 ts Paprika
3 Sprigs parsley
3 Slices bacon
1/2 c Golden raisins
1 Pheasant, 2.5lb
1/2 ts Dried sage
3 Garlic cloves
4 tb Butter,room temp
1 c Dry white wine
Preheat oven 350 degrees F Squeeze juice of 1/2 the orange into cavity and over skin of bird. Rub bird inside and out with blend of next 3 items. Cut remaining orange in half and place in cavity with garlic and parsley. Spread butter over breast of bird and place, breast side up, in shallow pan. Place bacon over breast. Cover with foil and bake 45 min. Heat wine to boiling over high heat. Add raisins, remove from heat and let stand for 45 min. Remove foil and pour wine mixture over pheasant. Bake uncovered, basting frequently, until juice runs clear when a thigh is pierced (about 45 min) Remove pheasant with bacon to platter. Spoon some raisin sauce over top and pour remainder into sauce boat. Serve immediately.
——
MORE RECIPES HERE –> GO!