Float Hunting Alaska by Jeff Varvil
article copyright
A curtain of fog hangs close to the water, cutting the visibility down to within a few feet. With a pull on the oars the raft gently glides around each new obstacle the river rolls at us. The only sound is that of an occasional salmon rolling in one of the many sloughs we pass along the way.
I am startled out of my fog-induced stupor by the sound of my 9-year-old son Josh. "Dad, are there beavers in this river?"

Ten years and three kids ago, I would have simply have said, "yes." Now however, when my oldest son asks me a question that starts with "Dad", the hairs on the back of my neck stick straight up. His latest was "Dad, if someone hit a baseball through a school window, how much would it cost to fix?"
Kids are one of the reasons Dads are fact guys. Tell us who, what, where and why and we fix the problem. It's not because we are too busy to hear the long version from you, our beloved children. It's because we have to listen to your mom talk all day. For the most part that's why we do not care who is wrong or right. All we want is silence. Here is what we need to know. You threw the ball, What is it going to cost me? Where is this window? , Why? , Never mind, way to smack it over the fence son.
I went with the "why" version on the beaver question. Short and sweet, I was not disappointed.
"Because there is a beaver swimming in front of us with tree bushes in his mouth!"
As I stood up in the raft, I could indeed see the telltale signs of a beaver v-wake heading down stream. But when the little beaver reached the gravel bar his head just kept coming out of the water until it stood 6 feet at the shoulders.
"Dad, It's a moose!"
There, on the banks of the upper Deshka River, only an hours drive from Anchorage, Josh collected his first 60″ bull. Then, as only a child can, he stated the obvious for me in case I had missed it.
"Dad, See the bushes were really his antlers!"
"Yup," they sure were.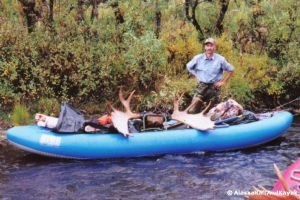 Alaska's rivers are like arteries carrying life giving oxygen to the heart of Alaska. Man and beast alike have depended on these water highways for food and travel long before there was a paved road system. The famed Alaska Highway, long considered an epic in road building, has come a long way since it was completed in just over eight grueling months back in 1942.
Started as a wartime measure designed to provide a land route for war material and equipment going to Alaska from the Canadian provinces and American States, the Alaska Highway was punched through more than 1,400 miles of mountains, muskeg and mosquitoes. Over 6,000 miles of gravel roads and trails now branch off of the main highway, opening up much more of the country to affordable recreational activities such as hunting and fishing.
Expensive chartered airplanes are being replaced with SUV'S and four wheel drive 4-wheelers. Inflatable rafts and canoes can now access what once required powerful air or jet boats. Many rivers have road access on both ends. This being the P, or put in site, and the T, Take out site. Others, like the Deshka, can be reached on the P end by car and the T end by jet boat. This significantly cuts costs. The average air taxi charges $350 per hour for a DeHavilland Beaver ride. Figure the average flight to be one hour each way. Then they have to come get you. That is $1400.
Ask yourself this. While you were living in Minnesota would you have paid $1400 to fly anywhere? You probably did not spend that much on getting to Alaska. But we pay it, don't we. Because the bottom line is we are not walking 50 miles out with a moose on our back. There will always be a place for the air taxis in Alaska, but as more roads are built and with the rising cost of insurance, I mean prices, there are other alternatives.
The first thing you need to do is to sit down and figure out what your goals are. What do you want out of this trip? What do others in your party want? What are you willing to endure to achieve them? How much money can you spend? How much time do you have? When you figure all that out, just know that it may all change due to a compromise on the river you will be floating.
The second thing you need is an Alaska Atlas. Get out the Atlas and take a look at the rivers that cross or come near a road. As simple as this seems people just do not do it. Do not overlook it because you think it is too close to civilization and you think it will be crowded. Go down to the Fish & Game and do your research on it.
Don't rely on other hunters or fishermen to give you the straight scoop. Here is a tip for you and it may save you countless hours of wandering and a thousand mosquito bites: YOUR FELLOW SPORTSMAN LIE. We don't want you around us while we are in our spot. If you find a river or creek that seems floatable, go down to the Fish & Game and check the unit regulations.
Here are some questions to ask: Does this river stay in the same subunit while you float? Do the unit regulations differ in adjoining units? Are you in a National Park or Preserve? Do you need permits to be there? Is there any private land?, If so, where?
You pay these people, so ask them questions. Go down to the public lands information office and see if there are any river logs for your river. Years ago they actually used to pay people to travel down a river and write down everything they saw. They are great. Let's just call it your river now since your doing the homework.
Check with your local raft shop or canoe club and see what kind of white water rafting it has. Any water falls? Are there a lot of sweepers? What are the water levels going to be like when I am there? There are many books available such as "The Alaska River Guide" and "Float Hunting Alaska" that may be able to help you with some logistics.
Once you have accumulated all of this info, you need to go out and walk as far as you can and take a look at it. I have even gone so far as to hire a jet boat to run the river so I knew where I was the whole time with a GPS.
Another good thing to have is a "get out plan". As in "oh, oh, a bear ate our boat and we need to get out of here" plan." Is there a lake close by that a plane can land? Are you near another road or trail that you can walk too? Do you have cell phone coverage in this area? Will you need a SAT phone or can you use an aviation radio to call for help?
You may be the pioneer — the first person to ever float this river. Ok, probably not, but bring a chainsaw just in case you're the first pioneer after a windstorm. We will assume you already own your own raft as that is another article all together. Just choose the right size and style for whatever you are doing. Here is one to get you started.
The Deshka River Game Management Unit 16 A
Go north young man! I always wanted to say that, and in this case, it is correct. At Mile 243.2 of the George Parks Highway, take a left onto Petersville road. Drive about 6 miles then turn left at Oil Well Road. Drive 5.5 miles to Moose Creek or continue another 5 miles to Kroto creek. Beginning at Kroto Lake, the sometimes crystal clear Kroto creek meanders 40 miles paralleling Moose creek until they come together to form the Deshka River. Both streams are floatable but low water conditions can occur which may require some pulling. Both streams have nice gravel bars for camping and the scenery ranges from wide-open marshy sloughs to large timber full of spruce, willow and birch. The rivers themselves can have sweepers, fast moving water and tight turns. The plus side is both streams have Rainbows, Kings, Coho, Sockeye, Chum and Pink Salmon just in case the moose hunting gets stale.
It is between 50-60 miles down to the mouth of the Deshka where we get picked up by a buddy with a jet boat and brought back up to the Willow State Campground where I park my car. You can also arrange for a commercial jet or airboat service to pick you up anywhere along the way. You can also fly into or out of Amber Lake (Kroto) or Neal Lake (Deshka), and cut your trip in half.
I have never seen a power or airboat on the river until we reach the main Deshka. You can use a small raft 13-14 feet or an inflatable canoe on either upper stretch. I did see a regular canoe on Kroto Creek but they were a lot better paddlers than I was.
Remember, animals don't always just swim into the river and wait for you to shoot them, well, unless it is foggy and you're a 9-year-old boy. Get up into the woods and find a good glassing spot. Go one step further than the next guy and you will be rewarded.
Take care and enjoy all of what this great state has to offer.
author website: visit | author bio