The Ramblings Of A Camp Cook by Juanita Amero
article copyright
After months of scouting and weeks of tending baits, the greatly anticipated morning had finally arrived. We headed to the boat crossing to meet our Tennessee hunters as they came to the end of their long 25 hour drive and the starting point of hunting the Nova Scotian black bear. Pulling in behind our pickup, these boys of the south jumped out of their Chevy Suburban with deep chuckles and grins a mile wide. With a hearty hand shake and a bear hug from Doyle, Trapper, my husband and hunting guide was left gasping for air and a few sore ribs. Doyle had hunted with us in 2005 and from that time forward had become an instant hunting brother. I sat in the cab and watched as I felt the meeting of hunter and guide should be one with few interruptions. After a few minutes of excited conversation laced in rich southern drawl, the camo clad group of men jumped back in their heavy laden vehicle full of hunting gear and followed us through town and then down the dusty roads to camp.

We pulled up to the rustic cabin, nestled in the woods by a little lake
with waves gently lapping at its grassy banks. A pair of loons called a
wild greeting to our American guests. These feathered friends would
continue to sing their primitive song while fishing the lake they shared
with us all week. Off in the woods just a bit was the bathroom
facilities, a two-seater outhouse that became better know as the "Sugar
Shack."
Tony, Bruce, Sam, and Doyle, our hunting party of four, stretched their
legs and began to unpack for a week worthy of much remembrance. First
order of business after settling in and claiming bunks was filling hungry
bellies and then a good night's sleep. The next morning consisted of the
paperwork and licenses being obtained from the local DNR office which
went without a hitch. Off to the baits for selection of the evenings hunt
locations and a refreshing of the "goody" piles. After a quick lunch,
everyone was delivered to their sites and in stand by 4:00….ready for
the hunt.
Trapper was no more back on the step of home base when he received a call
from Doyle.
"I got HIM!" he bellowed.
Back in the truck we go and I haul in my leg and got the door shut just
in the nick of time to hold on as he barrels out en route to Doyle's
stand. It was a ride nothing short from a scene of "The Fast and The
Furious", and I know not how we made it there without surely ending in a
fiery crash. Running to keep up with Trapper once we came to a rolling
stop, we head into the woods to where a very happy Doyle is standing over
his bear talking on his cell phone.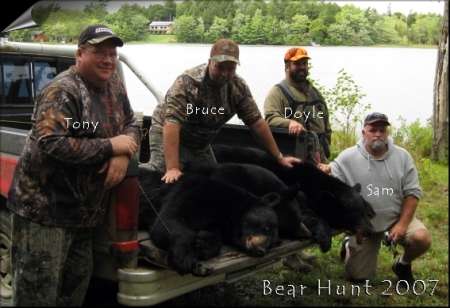 "Tony's got a bear too!" beams Doyle as we stop short at the sight of a gorgeous boar bear, all 355 pounds of him. Doyle took this bear with his late fathers 300 magnum and the bear expired a mere 20 yards from the site in a little mossy hollow. We attempted to move the bear onto the game cart, but could not maneuver this black bear that rolled like a big sac of Jell-0. We would need to go for help. They later would come back with the brawn of the entire hunting party. On the walk out, he fills us in on how the hunt unfolded. A smaller bear, over 200 pounds, had circled behind him, but didn't present Doyle with an ethical shot. As he once again looked back to the site, Doyle saw what the smaller bear had been so leery of. The boss of that bear country, all big and bad stood broadside while he raised his gun. With no hesitation, he took the trophy he had waited 10 long years for.
Back on the road again, it soon became apparent that I had to be dumped
out at camp to make room, as the truck would soon fill up with hunters
and bears. I was way too excited for everyone to feel sorry for myself,
but how would I ever stand the suspense? I built myself a campfire for
company and warmth, and sat by the lake as the sun settled behind the
tree line and waited…. with a silly grin on my face. This was the
moment where all of Trapper's hard work had started to pay off. A guides
hopeful dream unfolding to sweet reality.
Trapper, Doyle, and our son went on to Tony who was at a stand over
looking a forest floor of ferns and hardwoods. There is an astonishing
maze of bear trails in there amongst the ferns. As they reach Tony, they
soon find out that Bruce has called him to report he had a bear down as
well. What a long night this was going to be!
Tony was hunting with his bow, on his first bear hunt, and up until
putting his sights on this bear, had never even seen a bear in the wild.
He had watched this bear for an adequate amount of time to be sure it was
alone. He placed a great shot on this 231 pound dry sow, coat thick,
shiny and black as night. What a beauty of a bear. Between the four of
them they were able to get her half way to the truck. Locking in the
hubs, Trapper was able to come in far enough to put it in the truck bed
and bring it the rest of the way out. One bear on board!
By now, it is near dusk and Bruce is waiting on Trapper to fetch him out.
He told us later that while waiting in his stand, after releasing the
fatal arrow, he indeed had heard the bear fall over yonder. Then not 20
minutes later, another bear came into the site. It smelled the air
timidly, turned tail, and crashed back down the trail it came from as
quickly as it had appeared. It is a marvel just how quiet these bears can
be when coming in. You often see them before you hear them as was
witnessed by all hunters that night. But when they decide they want to
get out of the area fast, they sound like a bull dozer crashing through
the trees. A sound one is not quick to forget.With darkness hampering the
tracking and recovery of Bruce's bear, they wisely decide to pick up Sam,
still on stand, and retrieve Doyles bear. Two bears on board!!
Bruce hunted with a bow as well, and like Tony had never seen a wild
black bear before. Bruce claimed his bear was not "all that big" and the
one that came in after and bolted was much bigger. The next morning
proved Bruce's bear to be a shocking 315 pound boar! Bears are so hard to
judge in the field, but Bruce's turned out to be a very nice trophy. He
did us proud and made an exceptional shot and recovery was less than 30
yards. Imagine the size of the one that visited the site after the shot!
Three bears on board!!!
Sam did not tag out that night with the others, but the twinkle in his
eye as he helped with the hard labor of getting the bears out of the
woods showed his true sportsmanship His enthusiasm matched that of the
entire hunting group. With three hunters filling tags on their first
night of the hunt, this left Sam and Trapper alone against the bears.
Hunter and guide against beast…a battle between men and pure wild
instinct. Who will outsmart who? It got personal as trail cams showed
good bears at sites where Sam was not, same times too. He had free choice
of whichever of our 6 stands he wished, all still active. Sam hunted
hard, longs hours, in all weather conditions. He made stand choices based
on Nova Scotia's changing wind directions, guiding advice and carefully
interpreted bear sign. Being a well seasoned big game hunter himself, he
made good decisions. Decisions even the best of experienced bear hunters
would have made. As we all have said at one time or another….this is
why it's called hunting. No one can predict the behavior of a wild
animal, something he well knew and spoke of often. To our dismay, Sam did
not go home with a Nova Scotian black bear under his belt, but was able
to see a bear in the wild on one of his last sits on stand. The bear came
in alone, snatched up what he wanted and disappeared into the dense
cover. The bear returned more than once, and though Sam (a bow hunter)
said he could have let an arrow fly, he chose not to. Sam showed true
respect for the great animal he hunted and because he was not 100% sure
of the shot, he did not take it. You need not always bag a trophy to
enjoy the hunt as Sam is a true witness to.
He told tales each night of watching other native wildlife around the
stand and how they had amused him. He insisted he was enjoying each hunt
and stated, "taking a bear was just a bonus". He traveled with Trapper in
the backcountry as they waged war on the bears during the last couple
days of the hunt. Sam spoke time and time again, how he loved just being
"out there" seeing our forest and wilderness. I was with them one morning
when we saw a pretty doe cross the trail just ahead. He marveled at the
size of her, that we took for granted as being average. As in his home
state, most bucks don't get as big as that doe was.