Trophy Blue Cat Fishing Part 2 by John Sherman
article copyright
I know you're just itching for the rest of the pieces of the puzzle now. Your dreams are filled with visions of gigantic catfish bottoming out your scale. In order to make that dream come true we need to put it all together now.
In part one I covered the basics in tackle needed to land trophy-sized cats. Now, the next most important item is bait. The best thing you can use is something indigenous to the area you're fishing that the catfish eat daily. If the river is full of bluegill, use bluegill. If the river is full of shad, use shad. Preferred bait of choice on the James River is big ole' gizzard shad. Get yourself a cast net (and permit) and learn to throw it. Shad can be pretty easily found in creeks and side channels nearly all year long.

The phrase "big baits catch big fish" is true. It is possible to catch a big one on a small piece but bigger baits will keep the small fish away. Using bigger baits is also a good idea because bigger fish want to spend as little energy as possible to eat. A bigger meal is the ticket they're looking for.
A big shad head or a 6 to 10-inch piece of cut shad is the way to go. Make sure to hook it so the hook point is exposed and the bait does not block the gap. Smaller shad in the 6-10 inch range can also be used by cutting off the tail so it bleeds, and hooking it through the eyes. It may look too big to you but to that trophy, it's just the right size.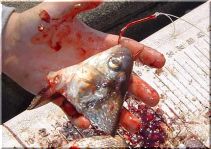 Hook a head in from the mouth and out through a nostril.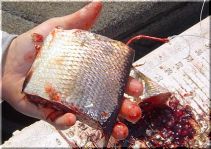 Hook a larger piece such as this through a corner leaving the gap clear and the hook point fully exposed. Make sure to remove all scales from the hook point.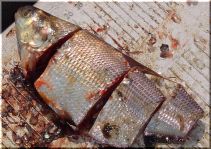 Here is a shad cut up and ready to be put on hooks. The head and larger midsection should be cast out to the main deeper target such as a boulder or deep end of a wing dam. The smaller pieces should be cast to a shallower shoreline target and the other out in the channel for smaller fish to get some action! Always throw the tail away as it will tend to spin the bait and also pull it off the bottom.
Your first tool for locating catfish is a fish finder. A good fish finder is important not only to find structure, but to locate the fish as well. If you don't see any fish on the graph there's no sense in dropping anchor. Read the manual and practice using it to locate fish. The settings have to be right for fish sitting on the bottom to show up. If the settings are wrong you could ride around all day thinking you aren't seeing any fish.
The importance of the fish finder is magnified because blue catfish relate heavily to structure. It may be a wing dam, downed tree, underwater boulder, drop-off, or ledge, but it has to be located and ruled a likely spot for the fish to be.
The key to the examples of structure I mentioned is a current break where the catfish can sit out of the current and still have easy access to food. All of them can hold fish year round but depth is the key. Generally speaking a tree in 20ft of water will have a chance of holding bigger fish than a tree in 5ft of water.
For seasonal locations catfish will generally hold deeper in winter and shallower in summer. There are exceptions of course but for the most part this is true. You will learn which applies to your body of water the more you fish and with a few tips provided here. Winter is big fish season on the James River. Most big blues will move to deep structure and stay there all winter long. They will continue to feed and remain active, which gives cat fisherman an excellent opportunity for a trophy.
During the warmer months catfish activity is based largely on water temperature. The higher the water temperature out of their ideal range of 75 to 80 degrees, the more lethargic they become. For this reason the daytime bite during the summer is largely non-existent and the catfish will instead feed during cooler nighttime periods. When the sun goes down the fish will begin to move in search of food. The catfish will move along ledges or move up to a flat in search of baitfish. This behavior is harder to predict which is why trophies are harder to come by in the summer. Instead of concentrating on hard structure when fishing at night, you should concentrate on ledges and flats nearest the structure or hole that you've located.
Here are a few generalizations that work well in either season. Fishing a steep drop-off or ledge with deep water that allows quick shallow water access is a high percentage spot. Wing dams are also a high percentage spot. Inactive catfish will be able to hold behind the wing dam out of current to rest. Active catfish will sit in current breaks in front of, along side, and in scour holes by a wing dam. Once again a wing dam that reaches 25ft deep at the end generally will be more productive than a wing dam that reaches 10ft at the end. Bridge pillars are another popular target for cat fisherman. They also allow catfish to sit in current breaks in front, along side, and in scour holes by the pier to feed. During periods of inactivity they will sit behind the bridge pillar.
I'm sure by now you've noticed the theme. Current breaks, current seems, and eddies provided by structure are what you need to look for. They may be obvious such as with a bridge pillar or you may notice a subtle ripple on the surface from a boulder 20ft down. It all comes from reading, learning the river and watching your depth finder.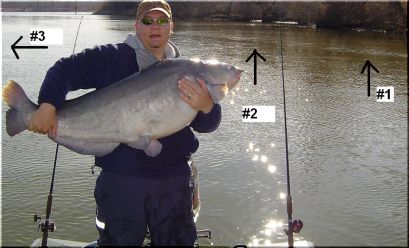 This picture shows targets to aim for. #1 is a sharp drop off parallel along the shoreline that drops quickly from 5 to 15 feet. #2 is a drop off perpendicular to the shoreline dropping from 22 to 30 feet. #3 is a ledge that runs parallel to the shoreline dropping from 25 to 34 feet. If you look closely at the picture you can see slight ripples on the surface from the drops for 1 and 2. All 3 in the same area makes for a productive spot. All were found using my depth finder. In this case #1 caught a 24lb fish, #2 a 35lb fish, and #3 the 63lb fish I'm holding. I also had a fourth rod cast out to the left of #3 in the main channel that did not get a bite. This picture also shows that I have 4 rod holders across the back of the boat to effectively fish a hole or structure using circle hooks.
The last thing to cover is that current is your friend when fishing for blue catfish. In some rivers the current is always present but in tidal rivers such as the James, it's very important to look at a tide chart so you can fish when the tides are moving. During slack tide the catfish tend to roam around making their location unpredictable. When the tides are moving it puts the catfish back on the structure to be protected from the current. I don't see much difference from incoming and outgoing tides. I feel as long as it's moving you're in good shape.
Take the time to read up on blue catfish. Learning their seasonal movements and biology, then adding to the above tips will go a long way in your success. Most importantly please practice catch and release! Keep the small ones to eat but release the big ones to let grow. Protect our trophy fish!