Alequa Kids Bow Review by Pete Ward
article copyright
Maker: Mike Gibson Bowyer
Specifications: 36″ Red Oak Kids Self Bow, 5#at15″
This is a very special review to introduce the tiny tots to archery and all the fun things we take for granted. Emily is my assistant for this review and she is also my 3 year-old granddaughter. This is her first bow, and Mike Gibson at Olequa Bows built it just for her.
It is difficult to find a bow that fits the kids' sizes. Most kid's bows are 48″ long and for the real little ones it is just too much. This leaves the kids out, and archery is not fun to just watch when you are only 3.

Mike has a passion for introducing kids to archery. He will build a bow that is custom to their strength and size. If the kids are 3 or 6 feet tall, he will make a bow that fits them at the draw weight they need. If they can handle it they will enjoy it. A bow that is too large, even if the draw weight is good, is just too difficult to shoot and Mike will build a special bow to fit your kid's size.
At three feet tall, Emily's bow is a perfect size for her. We would not want a 10-foot bow, so why do we get kids a bow that is too big? Usually it's because that's all there is available, unless we get a plastic toy.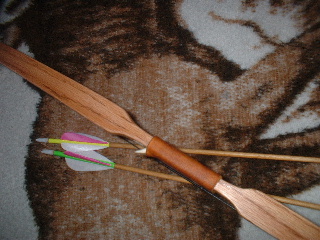 Emily's bow is a miniature real bow. It has antler nocks, strike plate, and arrow rest that is attached under the leather grip. The string is even equipped with rabbit fur silencers and a wind detector. It is very well finished and looks just like the big people's bows in every aspect. This is important if we want to have the kids respect their bows and not treat them like toys.
This bow is not a toy! I drew it to 12 inches and shot an arrow 60 yards down the range. It can stick arrows into frozen 3D targets with ease. (without supervision the cat could be in jeopardy) For the safety of everyone involved, Emily's bow is kept at Grampy's house, unstrung on my bow rack, out of harms way.
Every review I do starts with the excitement of opening the box, and this was no different for Emily. She had no idea that Mike was building her a bow. As an added surprise to both of us, Mike included a fully adjustable back quiver, also sized for her and the arrows, I made for her.
Her bow arrived in the dead of Alberta winter so we did not have a lot of shooting opportunities until yesterday when spring started to show. Emily called me and asked if we could make some arrows and go shoot the "Bear" at Mr. Bob's Range. How can I say no? We started some new arrows and while they were drying we went shooting.
Bundled in heavy clothes she was "ready for bear", and any other target that was in range. Much to our delight we were able to shoot and hit the targets and even have the arrows stick in. Her bow is tailored well and it shoots surprisingly well for such a tiny bow. It is very quiet, so even mice will not jump at the string release. The antler-reinforced tips are fast-flight compatible also. The fur silencers and wind detector certainly adds to the appeal. Getting a full draw photo evaded us, as Emily had no time for posing when an arrow was on the string. It did not take long to figure out the Quiver, and I am sure that by summer she will have it mastered.
Sessions need to be short. Let the kids decide when it is time to stop and they will want to do it again. Before long you will be fighting to get them to stop. There is a lot of time to learn form and all the formalities, in the beginning, concentrate on fun. That should be the measure of success.
I am a strong advocate of starting kids off young with good equipment. Good does not mean expensive!! If we give them a bow they can handle and shoot the success will follow.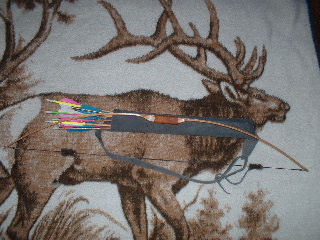 Too often we see a young one with dad's old bent and warped arrows and a bow they are trying to muscle. This is a recipe for failure. Many kids will soon want to give up. They need success. At first, success is often just getting an arrow to shoot far. Make it fun and they will enjoy the time with you.
For Emily's arrows, I ordered Ramin 1/4″ x 24″ shafts from Three Rivers ($3.50/dozen) and matching 60gr points ($2.95/dozen) and 1/4″nocks ($1.35).I cut fletches with the Vario feather clipper to suit the size of her arrows 2 1/2″ long, by adjusting the base and using the ends left over from my own fletches. We cut her arrows to 17″ so they match the bow's draw. At a total cost of $7.80 for a dozen good arrows, there is no reason to not make up proper arrows that will shoot well from a kid's bow.
We spent a great day building arrows and shooting. She helped sand the shafts, stain and seal them, and then we went shooting and came home to finish her first arrows. We used crest wraps to make them easy to find in the grass and she helped put the glue and fletches on. This was a great day both of us will remember.
The first arrows I made were 3 fletch, they fly good but are confusing for Emily to nock right. The ones we made together have 4 fletches and that eliminates the confusion of which way the cock fletch goes.
If you shoot the Dart system, the carbon arrows we use are the perfect size to slip over these arrows, and we can use the cut ends 2″ long with an insert to allow the kids to shoot with us. These homemade adapters will take the screw in "Dart Blunts" we must use and often can be obtained from the broken arrows that are at the ranges.
Comments for the Merchant: mandsgibson@netzero.net
author website: visit | author bio