Massie M 3 Piece Recurve by Pete Ward
article copyright
Superb hardly describes the craftsmanship of the Massie "M" recurve. Jeff Massie has created a bow that is wonderful in every aspect. The detail in fit and finish is flawless. This bow also shoots as good as it looks. I was instantly impressed after the first shot. Quiet, with a very smooth draw that starts with early weight and does not have any stacking to 28″, it has very good arrow speeds. This bow shoots to where you are looking and delivers the arrow with authority.

The Bubinga riser on this bow is the most comfortable that I have held. It has a large palm swell that happens to fit my hand as if it was made for me. It seems to settle into my hand without any tendency to torque and just feels great. The dead after the shot feeling is a definite result of a design that is shock and vibration free.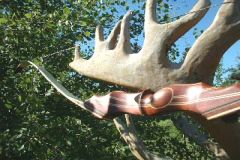 The limbs are made from natural Ply-boo under glass with Bubinga stripes and wedges, and are securely attached with two alignment pins and a single bolt in the center, resulting in a no play fit. The Pins are precisely aligned and the fit of the limbs to the riser is perfect on all surfaces. The recommended brace height is 9 to 9 1/2 " measured from the "front" of the riser. I have been shooting it with the minimum 9″ brace height.
The majority of my shooting has been done with 29″ Easton Excell 400 carbon arrows / 125 grain points, using internal weights to bring them up to 600+ grains and with brass inserts at 500+ grains. Wood shafts of Spruce, Cedar, and Australian Silverwood, also shoot very well in spines from 55 to 65 with 125 points. My shooting with the "M" has been all outdoors at 3D Targets with ranges varying out to 40 Yards. At the longer ranges the arrow flight really is noticeable and it is comforting to see an arrow flying true over the longer distances. Often it is hard to see flight imperfections at 20 yards but at 40 the slightest Yaw , Porpoise or Fishtail is easily seen. With properly matched arrows the "M" shoots with repeated flawless flight, even with some "not so good" releases. If this is considered forgiving, then the "Massie M" is a very forgiving bow to shoot.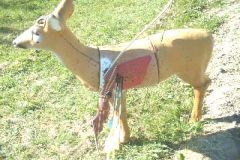 Although I have only been shooting this bow for a couple weeks I have shot hundreds of arrows from the "M". This is due to spending many 6 to 8 hour days at the outdoor range alone. The Massie "M" is fast becoming a favourite bow that I will regret having to return to Jeff. It is just a superb bow in every aspect. Performance is excellent, and it is an easy bow to shoot well. The fit and finish are flawless and it is strikingly attractive to look at. I can not think of any changes that would be an improvement. This bow is as near to perfect as it gets.
After shooting the Massie "M" recurve I have no reservations in recomending Massie Archery as a very good choice when you shop for a new Bow. True custom bows are a product of skill and devotion, and these are evident in the bow I tested here. Jeff will work with you to create the bow of your wishes or dreams from the materials of your choice.
Although I have not had the oportunity to shoot the well known Massie Longbows I expect that they are as well made as this bow is. Another service of Massie archery worth mentioning is "bow repair and refinishing" of traditional bows.
Guarantee – Massie Archery, Inc. offers a thirty (30) day guarantee on all Custom Bows. If you are not satisfied for what ever reason you can return the bow in good condition and we will gladly make a refund or exchange.
Warranty – One (1) full year warranty on all bows against material and workmanship defects. Anything beyond the one (1) year period depends on the condition of the bow. This limited warranty is extended to the Original Owner and is not transferable. Strings not covered.
author website: visit | author bio