Peregrine Longbow Review by Pete Ward
article copyright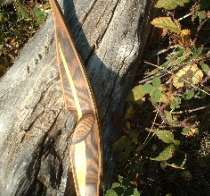 Bocote Riser, Pau Amerello accent.
Highly figured Quilted Maple limbs with Bamboo cores.
Black Beaver Tail shelf and side plate padding.
Fast Flight String, Rubber Cat Whiskers.
Thunderbird Epoxy Endurance Bow Finish is standard on all Cari-Bows.

The Caribow "Peregrine" longbow is a new model from Abe Penner's shop at Cari-bow Archery. This highly Reflexed longbow has a lot of great qualities that make it a bow that is very easy to like. Each bow comes with a bow sock, nock point installed, arrow rest and silencers. It is ready to shoot when you open the box. I always recommend a stringer for your safety and the bows well being. Every Cari-bow comes with an appropriate stringer.
The first time I shot the Peregrine I was at Elk camp and had taken the new bow with me to set up during the afternoon breaks. The first set of arrows from it shot left, but in a good sized group giving me hope that I would have some arrows with me that were spine matched for it.
After only 2 more trials I had a set of arrows that were giving me 3" groups of 6 at 20 yards. I am impressed at how quickly I could get onto this new bow. The recurve style grip seems to fit me like it was custom made for my hand. The feel after the shot with the Peregrine is dead in the hand and the only noise is from the string leaving the glove. Quiet and shock free are understatements when describing how the bow shoots.
After shooting about 3-dozen arrows it became quite obvious to me that I can shoot this bow without any adjustment to my grip or form. The thumb rest is standard on the Peregrine, providing you with a consistent and repeatable grip every time you pick up the bow.
With any clean release the arrows were headed to the mark and giving me great groups. I took a notion to see just how some broadheads would fly and matched the 325gr target points with 200gr Ace's and 125 gr. steel adapters in the 45/60 carbons and 100 gr. brass inserts. As luck would have it the first broadhead was dead center. The next arrow shaved a fletch.
At this point I am very impressed with the bow.
Normally I would not hunt with a new bow until I had a lot of arrows thru it but this bow is different. I shot a few more broadheads with the same consistent accuracy and by now I knew that this bow was a great shooter. I made a good guess at what arrows would fly and got lucky after only 3 different setups. It took an hour of shooting for me to decide that there was no reason not to take the new bow after elk on the first day I shot it. I have never hunted with a bow that I did not spend a lot of time with before. I had no Idea of what the chrono numbers would be but I could see it was quick with the heavy arrows I had matched it up with, and it would easily do its job if I did mine.
For the next week I hunted daily with the Peregrine. I do like it a lot and when I found myself taking it down from the hooks every day I realized just how much I like it. The Peregrine is a special bow for me that has an attraction that is a lot more than "eye candy". It is one of those bows that you take to right off the bat, and seem to keep going back to time after time. The elk hunting was not very good but the time out and away from work was.
As the season progressed I switched bows often and even when I took out " old reliable" I found myself questioning my choice of bows that day. This new bow on the rack has made a big impression with me. I kept going back to it.
The hunting season is well underway and I recently took a trip with a friend for a Moose/Elk hunt. Donovan is always interested in trying the test bows I receive and the noon break was as good as any time to let him try out the latest bows I had received.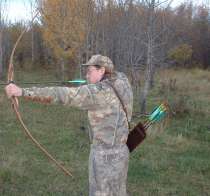 We tossed out the target and began to do some fun shooting with several bows. He took to the Peregrine like a long lost friend and began to shoot it like it had been his go to bow on the first shot. He tried several other bows and kept coming back to the Peregrine. Donovan was really shooting it well and before the day was out he took it for the evening hunt, leaving his own bow in camp. The next day he also hunted with it again, and on the following weekend when we went out again he hunted with the Peregrine. After answering as many questions as he could think of about the bow I realized that he was in contact with Abe about ordering his own Peregrine. The bow won him over just like it did me.
It is hard to put a finger on any one characteristic that makes the Peregrine so inviting. It looks fantastic with the Bocote and Pau Amerello riser, Quilted Maple limbs, but it is more than that. There is lots of early draw weight and it draws very smoothly without stacking to 30″, shoots dead in the hand, and is whisper quiet and vibration free. It is lightweight and this makes for easy carrying when you walk all day, and it seems to be very forgiving to the not so good release we all seem to be plagued with from time to time. Looking closely at the workmanship it is flawless, glue lines are precise, and the tiller is very good. The non-glare finish is flawless.
I can shoot it at a low brace of 6 ½" or 7 ½" with no ill effects. I do prefer it at 7 ¼" where it is at it's quietest and I have good sleeve clearance with heavy clothes on. I still cannot pin it down to any one thing that draws me to this bow. It is the combination of how all of these qualities come together to form this great looking and wonderful shooting bow. And it is a very fast bow, however I prefer to take it's performance as momentum and shoot heavy arrows at a light draw weight of 47# at my 27″ draw rather than in speed. I am firmly in the heavy arrow camp and when I can shoot a 27″draw, 47# bow with a 700 gr. arrow at 156FPS I know I can hunt any game in North America. Hunting with the Peregrine is like having 5 extra pounds of draw weight that you do not have to pull. If 3D and fast arrows are your game then you will certainly enjoy the superb performance of the Peregrine.
With a custom string at 28″ draw and 9GR/Pound it shoots 193FPS. The stock FF string is still shooting a very respectable 187FPS.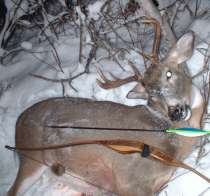 I am not a fan of fast flight string material and usually change it when a bow arrives with this material. For the review chronograph testing I did use Abe's string, however I did some extra shots with a Rod Jenkins 10 strand DF97 padded loop string and Beaver Ball silencers just for comparison. That is the string I hunted with. Now that the review is over Rods string will stay on the Peregrine. This is the second fastest bow I have chronographed at 28″/ 9gr/pound when I put the Rod Jenkins, Great String, 10 strand DF 97 padded loop string on it. This string was setup with Beaver Ball silencers, and a Brass Nock point. It is a hunting string.
The Bamboo / Glass Peregrine with Rods string is shooting faster than several Carbon Limb Bows that I have chronographed. That is quite impressive.
Abe does not make any great claim to speed, but I found that the bow makes it's own claims. It shoots with the top performers out there thru the chronograph and it backs this up with a silent shock free shot. I expect to see the Peregrine taking a place on the "most wanted" list of a lot of shooters as people get to know this bow. It is a lot more than just a good bow. I do recommend changing the supplied string to a custom string. I would not make any other changes to this bow. It has it all.
I have carried and shot this bow in sun, rain, sleet, snow and -25 deg. temperatures. I cannot find a fault with it. Passing it around to friends to try, I hear nothing but praise for it.
The Peregrine is quite possibly the last bow you will buy. It is truly a superior bow in every aspect. I will highly recommend to anyone wanting a very high performing, wonderful shooting bow to try the Peregrine from Cari-bow. If you are in the Edmonton Area and want to test it, contact me and I will make it available if at all possible. It will also be with me at any shoots I go to this year. Just ask and we will set up a time for you to try it at the practice Butts.
Merchant Website: http://www.cari-bow.com
author website: visit | author bio