Vario Feather Clipper by Pete Ward
article copyright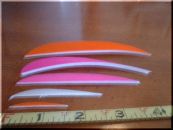 Since receiving the Vario Feather Clipper from Eternal Archery my arrows have taken a new look and way of flying. Not only is it cheaper to cut your own fletches, this clipper allows you to custom make them. The Vario comes with 1 cutting blade from a choice of available styles. If that is not enough you can have your personal shape made to order.

It is constructed with a heavy hinge that is secured with 8 screws. The top plate is 1/8″ steel, covered in thin foam that cushions the hand. Under this plate are 2 pieces of 3/4″ plywood. It holds the cutting blade and the other is a spacer. Each blade is supplied in its own wood holder.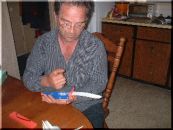 The bottom is 3/4″ plywood with a cork base. The adjustment plate screws to the bottom with 2 adjusting screws and has a scale attached for easy reference. The quill track holds the feather in place like Velcro would.
The Vario is simple to use and the adjustable cutter cleanly does its job. You can make any fletch higher or lower and even change the angle it cuts from front to back for your personal version of a standard shape. Sliding the fletching guide plate and then locking it down with the 2 lock screws do all this. Nothing could be easier.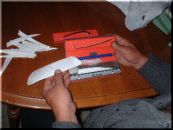 I have cut enough fletches during a TV show to re-fletch 2-dozen arrows. The first one I tried to cut was difficult as I attempted to just use my hand to smack the cutter. It didn't want to work so I had to use a mallet like the directions suggest. This was a nuisance and if you know me at all you will realize that I don't quit when I get an idea.
Looking at the Vario I could now see that the problem was the cutting blade had not cut thru the quill guide for the first couple of attempts, but now it had and there was nothing to cut but the turkey feathers. Holding it in 1 hand and smacking the lid with the other resulted in a sharp crack that told me the feather was cut. It was and the mallet had done what it was needed for and could be put away.
This is now an easy thing to do as I am watching the tube, rather than having to go to the workshop to cut feathers. I am very impressed with the Vario clipper and recommend it highly. It works better than the manufacturer claims and cleanly cuts with only a slap of the hand.
The samples above in the photo were all cut with a 4″ parabolic blade. By making simple adjustments to the Vario You can make custom sizes to suit your personal preferences.
Merchants Website http://www.herbsarchery.com
author website: visit | author bio