Small Game Hunting, A Pennsylvania Girl's Story by Becky Espenshade
article copyright
As the moon's glow is to the water crest, so the thump of the ruffled grouse is to a small game hunter's heart. With October come the cool, crisp smells of fall and the excitement of small game hunters throughout Pennsylvania. Sitting on the porch of our rural Pennsylvania home their thumping can be heard; my husband and I smile at each other as we share memories that will live forever in our hearts.

As a child, hunting was not only a way of life for our family, but a means of food. Growing up on a large farm it was always hunting season, or so it seemed, my father and brothers leaving with rifles in hand and returning with game in the other. I remember as a teenager, my father taking me hunting for the first time like it was yesterday. My father scolded me the whole way "don't step on the branches and leaves", "you're making too much noise", "be quiet". I can remember thinking "where am I supposed to step, there are leaves and sticks everywhere". However, in our hour or so long hunting trip I was able to bag a squirrel from atop a tree, with the first shot! Excited of my new found fun, I could not wait to return home and show mother what I had bagged. It was the best tasting squirrel my mother had ever prepared. This was my one and only hunting trip with my father, perhaps it was because I had made too much noise. It was my last trip that is, until my husband convinced me to join him grouse hunting. I reluctantly agreed, perhaps because I was afraid of being scolded again, but in an effort to spend some time with my husband, which is a rarity with our busy lives, I agreed.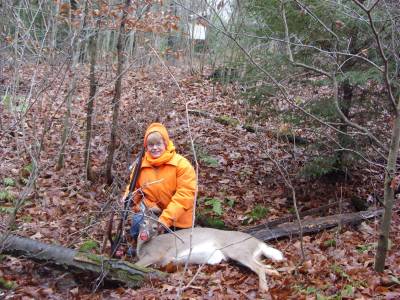 We loaded our Brittany Spaniel, Bentley in his kennel in the back of our pickup and headed for the woods. We spent the day following Bentley, as he weaved in and out of the trail searching for grouse. We walked with shotguns held ready to fire as he pounced behind shrubs and fallen logs weaving from one side of the trail to the other. His heart raced within his chest, nose tight to the ground and tail ready to point. Knowing, just knowing that any minute the flushing sound would echo through the woods. I find this so amazing because Bentley has never been trained to hunt grouse, it is "Natural instinct" my husband tells me. The day always ends the same, grilling burgers on the tailgate while Bentley takes a well deserved rest.
Our hunting trips rarely yield a grouse, maybe because we are so enthralled with the excitement of the dog, perhaps it is because we're mesmerized with the beauty of the gold, red and orange that abounded or maybe it's because we are feeling the same excitement breathing as one awaiting the anticipation. Whatever the reason, we fall into bed those nights with smiles on our faces. I am so glad I decided to join my husband for that day of grouse hunting that brought me back to hunting. I am sure this is a tradition that will last as long as we are able to hunt. Grouse hunting has become somewhat of an addiction and has since spread into deer hunting. This year I bagged my first deer, opening another chapter and creating all new memories, but that's another story.

Becky Espenshade