Braised Bear
1/2 teaspoon garlic salt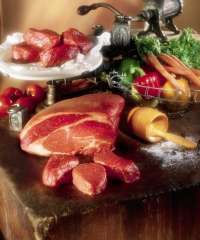 1/2 teaspoon onion salt
dash pepper
1/2 teaspoon chili powder
4 onions – sliced
2 cans tomato soup
Marinate bear steak overnight. Dry and sear on both sides in hot cooking oil or bacon grease. Add garlic salt, onion salt, pepper and chili powder.
Cover and simmer for 2 to 3 hours, until tender. Add: onions and soup.
Simmer 15 to 20 minutes more. If you wish to thicken juice for gravy, add flour.

——–
Bear Chops
3/4 Inch Bear Chops
Salt
Pepper
Paprika
Garlic
Onion Powder
1 can Mushroom Soup
1 can Mushrooms
Trim fat from chops. Roll in flour seasoned with salt, pepper, paprika, garlic, and onion powder to taste. Brown in hot shortening and place in oven pan.
Cover with a can of mushroom soup, a can of water and, if desired a can of mushrooms with liquid. Place in oven at 350 degrees for 1 1/2 hours
——-
Bear Loin Barbecue
3lbs. tenderloin
3/4 cup ketchup
2 onions chopped
1 tbs. worschtesire sauce
3 tbs. brown sugar
3/4 cup vinegar
1 cup water
1 clove garlic (minced)
1/4 tsp. tabasco
1 tsp. mustard
Slice meat into thin pieces, bake at 350 for 30 mins, mix ingredients in pan and cook 20 mins. over medium heat. Remove loins from oven and pour off any excess liquid. Spoon sauce over meat and cook an additional 1 hour.
——
Bear Steak with Greek Seasoning
2 lb Bear steaks
1/2 c Olive oil
1/2 c Lemon juice
1 tb Garlic powder
1 ts Salt
1 ts Pepper
1 ts Combination of oregano, marjoram, rosemary and/or mint
Trim all visible fat from the bear as it turns rancid rapidly.
Whisk the other ingredients together until emulsified. Use the emulsion to marinate the meat for 2-3 hours, refrigerated. Longer marinading before cooking does not improve the meat as the remaining bear fat will go rancid despite refrigeration. Grill, broil or saute the steaks until well done. Bear should always be thoroughly cooked as a precaution. Serve immediately.
——
MORE RECIPES HERE –> GO!