Baked Duck and Mushrooms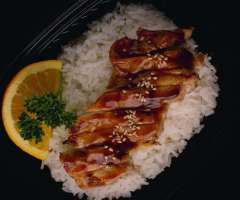 5-6 duck breasts, boned, skinned, cut into strips
1 lb. fresh mushrooms, sliced
8 oz. cheddar cheese
4 eggs, whipped
1/2 teaspoon salt
1 cup bread crumbs, fine crushed
1/2 cup butter
1 cup chicken broth
1/2 fresh lemon
In a non metallic container, marinate duck strips in egg and salt for 1 hour. Roll duck in bread crumbs to coat well. Heat butter in fry pan, brown duck strips lightly, remove and place in a baking dish.

Place sliced mushrooms on top of duck then cheese on top of mushrooms. Pour chicken broth and leftover butter from fry pan over the top of the entire dish. Bake at 350 degrees for 45 minutes. Remove from oven, squeeze 1/2 lemon over the top and serve.
——
Charcoaled Duck
4 Ducks
salt and pepper
3 c Wine vinegar
4 Lemons (for juice)
1 c Olive oil
2 cl Garlic – pressed
2 Onions – chopped
3 tb Soy sauce
1/2 ts Oregano
12 Strips bacon
Wash ducks thoroughly in cold water and dry. Season to taste with salt and pepper. Combine vinegar, lemon juice, olive oil, garlic, onions, soy sauce, oregano, salt, and pepper. Marinate ducks in this mixture at least 8 hours. Cook over charcoal fire that has burned down low. Close top of grill. Cook about 1 1/2 hours. Place 3 strips of bacon on each bird and cook for 30 minutes more.
——
Duck Jambalaya
1 Duck, medium
Salt and red pepper
3 tb Oil
2 Onions, large, chopped
3 Celery stalks, chopped
1 Garlic clove, chopped
1/4 Bell pepper, chopped
4 tb Parsley, chopped
2 c Uncooked rice, washed
1 1/2 c Water
2 tb Salt
Cut wild game into serving pieces and season well. Saute in oil until brown; remove from skillet. Saute onions, celery, garlic, bell pepper and parsley in oil until wilted. Replace wildgame in skillet; cover and cook slowly about 20 minutes or until squirrel is tender. Add rice and water. Stir thoroughly. Add salt. Cook slowly about 30 minutes or until rice is cooked.
——
Duck with Apple Dressing
1 (3-4 lb) duck
4 slices Toasted bread crumbs
4 tb Butter [melted]
1/4 c Water
3 large apples [peeled, cored, & diced fine]
2 tb Sugar
1/4 ts Nutmeg
1/2 c Raisins
1/2 c Cashews [chopped]
1 sl Bacon [cut into halves]
Rinse the duck and pat dry inside and out.
Combine the remainder of the ingredients except the bacon, mixing well. Spoon the dressing into all cavities of the duck then place in a baking dish. Place the bacon strips over the top and bake in a 350 degree oven until the duck is tender. Serve with wild rice and favorite veggie.
——
German Wild Duck
2 Ducks
1/2 c Salt to wash
1/2 c Vinegar to wash
2 14 0z cans sauerkraut
4 sl Bacon
3 Stalks celery, chopped
1 sm Orange, peeled and sectioned
1 Apple, chopped
1 sm Onion, chopped
Wash ducks in solution of salt and vinegar. Place a layer of kraut (with juice) in a 9×13″ pan. Mix celery, orange, apple and onion, stuff ducks with this mixture. Place ducks breast up, on top of kraut. Put any remaining stuffing mixture around the ducks. Cover with bacon strips and additional onion. Bake at 300 deg. for 3 hrs. If ducks tend to be a little fatty, remove excess fat as they cook.
——
Spicy Stuffed Duck
3c Bread crumbs
1t grated lemon rind
Rind of 1 orange, grated
1/2c oranges, sectioned
3T chopped onion
1t Salt
1/4t Ground cloves
1/2t Ginger, ground
Pepper to taste
1-Medium size Duck
Combine all ingredients, stirring the mixture into stuffing consistency. Fill body cavity of clean duck. Fill loosely. Do not overpack. Roast duck in 350-degree oven, basting frequently with orange juice. Increase heat to 425-degrees and cook an additional 20-minutes or until tender.
——
Mushroom Goose
1 Goose Dressed
1/3 Cup Bacon Drippings
2 Can Mushroom Soup
1/4 Cup Water
1 Medium Sliced White Onion
3 Cubes Chicken Bouillon
1 Clove Garlic Minced
Thyme, Marjoram to taste
Cut the goose into serving size portions. Brown well with bacon drippings in a Dutch oven.
When well browned put the goose along with all other ingredients in a baking dish.
Cover and place in the oven, cook at 300 degrees for approximately 1 hour.
——
Roast Goose with Potato Pierogies
1 Goose (about 10 pounds), thawed
7 ts Thyme, dried; divided
1 ts Salt
1 ts Black pepper
4 tb Oil; divided
32 oz Pierogies, potato (2 pkgs)
2 c Onion; chopped
2 tb Flour
2 c Chicken broth
Preheat the oven to 400 degrees F. Remove the neck and giblets; remove any large pieces of fat from inside the goose and neck cavity; reserve the neck and liver. Rinse the goose and pat dry with paper towels. In a small bowl, combine 2 tablespoons thyme and the salt and pepper. Rub the bird with 2 tablespoons oil, then rub with the thyme mixture. Tuck the wings under and tie the legs together. Place the goose, breast- side up, on a rack in a large roasting pan. Pierce the skin all over with a 2-tined fork.
Roast the goose for 1 hour. During roasting, pierce the skin several times with a fork. To keep the fat from smoking, remove from the pan with a baster or dip out with a cooking spoon. Reduce the oven temperature to 325 degrees F. Roast for 2 to 2 1/2 hours longer, or until the internal temperature registers 180 to 185 on a meat thermometer, and the juices run clear when the bird is pierced with a knife. Continue to pierce the skin and remove the fat while roasting. While the goose is roasting, finely chop the neck meat and liver for making the gravy. Refrigerate until ready to use.
When the goose is almost done, set a large pot of water to boil. Cook the pierogies according to the package directions. Meanwhile, in a large skillet, saute the onions in the remaining 2 tablespoons oil until golden; remove from heat. Drain the pierogies well; add the cooked onions. Mix lightly to combine. Cover and keep warm. Place the goose on a large serving platter; cover loosely with foil to keep warm. Remove the remaining fat from the pan and place the pan drippings into a glass measure; let any fat rise to the surface and discard. Reserve 1/3 cup of the drippings. Set the roasting pan on top of the stove. Add the reserved drippings. Saute the chopped neck meat and liver for 5 minutes or until cooked. Blend in the flour; cook, stirring constantly, until bubbly. Stir in the broth; cook and stir until the mixture thickens and bubbles, about 3 minutes. Stir in the remaining teaspoon of thyme. Pour into a gravy boat. Arrange the pierogie around the goose or place in a separate bowl. Serve with gravy.
——
Wild Goose Gumbo with Oysters
1 Goose, cut into pieces
1/2 c Cooking oil
1/2 c Flour
3 Onions, chopped
1 Bell pepper, chopped
1/2 c Celery, chopped
2/3 c Shallots, chopped
1/3 c Parsley, chopped
1 pt Oysters
Salt & pepper to taste
Tabasco to taste
Make a roux in a black iron pot with oil and flour. Cook slowly over low heat until dark brown, stirring occasionally. Add onions, bell pepper and celery, cooking until wilted. Add seasonings and 3 quarts of hot water, then add season seasoned goose and cook in a covered pot over low heat for 2 hours or until goose is very tender. Add oysters, shallots and parsely. Simmer slowly until edges of oysters begin to curl. Serve over rice with file' and french bread. Also for: Use smoked goose, duck, rabbit or turkey.
——
MORE RECIPES HERE –> GO!