Grouse In Red Wine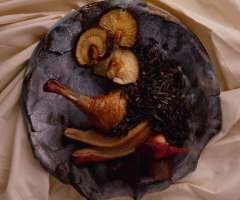 2 grouse quartered or filleted
2 T margarine
2 medium onions sliced
1/2 Cup chicken broth or bouillon
1 Cup red wine
1 T cornstarch
Salt & pepper to taste.
Melt margarine in bottom of small roasting pan. Brown onions and grouse pieces. Add chicken broth and red wine. Cover and roast at 350 degrees for 45 minutes to 1 hour until tender. Turn grouse occasionally so all parts are submerged in liquid. Meat surfaces will turn dark purple in color. Remove grouse. Thicken pan juices with corn starch mixed with water. Season to taste. Serve sauce on the side with buttered noodles.
——

Grouse Supreme
3 Grouse
1/2 c Flour
2 tb Parsley, dried
2 tb Paprika
2 tb Ginger, ground
1 tb Dry mustard
1/2 c Coarse black pepper
4 tb Walnut oil
4 tb Margarine
1/2 c Honey
2 tb Worcestershire sauce
3/4 c Madeira wine
Split birds in half. Season flour with 1 tablespoon parsley, 1 tablespoon ginger, 1 tablespoon paprika, 1 tablespoon dry mustard and 1/2 teaspoon black pepper. Roll dry birds in seasoned flour, shaking off excess. Heat walnut oil and lightly brown each bird. Remove birds and set aside. Strain walnut oil remaining in first pan and pour into separate sauce pan. Add margarine. Melt over low heat. Add honey and dissolve. Stir in 1 tablespoon parsley, 1 tablespoon ginger and 1 tablespoon paprika. Add Worcestershire sauce. Stir for 2 minutes, add Madeira. Continue to stir until near boiling point. Add seasoned flour to thicken as you like it. Do not let sauce boil. Turn birds breast down in roasting pan. Pour sauce over and cook at 350F for 25 minutes. Remove, turn birds breast up.
Place back in oven for another 10 minutes at 300F or until brown.
——
Partridge and Cabbage
1 partridge
1 medium cabbage – shredded
2 ounces butter, lard, or bacon fat
Salt
Black pepper – freshly ground
1/4 tsp. paprika
Juniper berries
1/2 pint double cream
Parboil the shredded cabbage in salted water for 10 minutes. Drain well.
In a heavy pan melt the fat and brown the partridges on all sides. Add the cabbage, season with salt and pepper, and add the paprika and a few juniper berries. Cover and cook for 20 minutes.
Add the cream, mix well and adjust the seasoning. Cover and cook for a further 10 minutes.
——
Roasted Partridge
4 partridge, 4 lbs
2 tsp salt
2 cups Game Bird Dressing,
4 to 6 thin slices salt pork
Start oven 10 min before roasting; set to med hot (400 F).
Do not scald these birds to remove feathers. Dry-pick instead as soon as possible after killing while feathers are droopy, due to relaxed muscles. Later on, feathers become set and more difficult to remove.
Pluck bunches of the feathers out in the direction in which they lay until bird is nude. Next singe. Wash in cold water to which 1 tbsp baking soda has been added to each quart. Rinse well in clear water, removing any pin feathers with a strawberry huller. Eviscerate, then wash well on inside, being careful to remove the lungs and any clotted blood. Drain well and pat inside dry with a piece of paper toweling or clean cloth.
Sprinkle 1/2 tsp salt on inside of each bird, then fill with stuffing.
Push legs and fold wings up close to body. Wrap 1 1/2 slices pork over breast and legs to form a compact parcel and tie into shape with twine. Put birds into a glass casserole. Do not cover. Bake, basting every 10 to 15 min with fat that collects in bottom of casserole. Bake until tender, about 1 hr for young birds. Serves 4 to 6.
——
MORE RECIPES HERE –> GO!