Whitefish Chowder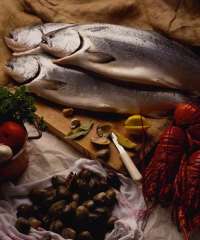 1 lbs. Whitefish fillets
2 Tbs. Butter or Margarine
1 Cup Onion (chopped)
1 Cup Carrots (chopped)
1 Cup Celery (chopped)
½ Cup Flour
1 Tbs. Accent
2 Cups Half and Half
1 Cup Processed Cheese (grated)
1 can Chicken Broth
Salt
Fresh Ground Pepper
Paprika
Parsley flakes

Cut skinned boneless fillets into 1" cubes. Melt butter in a large saucepan; add onion, carrot and celery. Cook until onion is transparent. Blend in flour, salt, fresh ground pepper, Accent, paprika and rubbed thyme flakes to release the aromatic oils. Stir in hot undiluted chicken broth gradually. Cook, stirring constantly until thickened, add the fish cubes and grated cheese, stirring until cheese is melted and fish is cooked. Add Half & Half and chopped parsley. Simmer another 3 to 5 minutes. Serves 12.
——
Whitefish in Cider Sauce
2 lbs. Whitefish fillet (Cod or Hake)
1 onion (finely chopped)
¾ cup Double Cream (Heavy Whipping Cream)
½ tsp. Fresh Mint (chopped)
2 Apples (peeled & diced)
1 ¼ cups Dry Cider
Butter Salt & pepper
Heat butter in a frying pan. Add onions and fry for 5 minutes. Add cider, mint, salt and pepper. Bring to a boil and boil for 5 minutes, then turn heat to low. Add Whitefish fillets and poach for 10-15 minutes. Remove the fish and keep warm, reduce the sauce and add the apple, thicken with the cream. Take care the fish is poached not boiled. Serves two.
——
Whitefish with Leek Risotto
1 c Arborio rice
4 c Bottled clam juice – or fresh or canned – low-sodium chicken broth
4 Anchovies; finely chopped
1/2 ts Chopped fresh rosemary; -OR- 1/4 ts – Dried rosemary
1/2 ts Chopped fresh sage; -=OR=- 1/4 ts -Dried sage
4 7-oz pieces whitefish fillet
6 lg Leeks – sliced into thin rounds,
3 tb Lemon juice
1 tb Dijon-style mustard
1/3 c Extra-virgin olive oil
Preheat oven to 350. Place rice, 3 cups clam juice, anchovies, rosemary and sage in a 9-by-12 baking dish. Cover and place in oven for 30 minutes.
Remove from oven, place leeks on the rice and arrange whitefish on top, skin side up. Give a turn of the peppermill. Cover and replace in oven for 15 minutes.
Meanwhile, combine remaining clam juice, lemon juice and mustard in a small saucepan and place over medium heat on the stove. Bring to a boil and cook until reduced by half. Remove from heat and pour into a blender. Put blender on medium speed and slowly drizzle in the oil.
To serve, arrange whitefish on a platter surrounding a mound of risotto. Spoon a little sauce over the fish and serve the remainder on the side.
——
Butter Cooked Whitefish
Salt 2 lbs. cleaned whitefish and refrigerate 1 hour. Dredge in flour or a mixture of fine bread crumbs and flour. In a skillet melt 3-4 Tablespoons butter and then add the fish.
Simmer on very low heat so that the butter barely bubbles and fish does not sizzle. About 10 minutes per side should be more than enough. Fish is done when it flakes easily. Serve straight from the skillet garnished with lemon wedges.
——
MORE RECIPES HERE –> GO!