Brown Sugar Smoked Trout Brine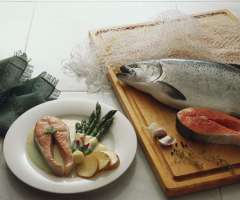 Brine, you might say a universal fish brine is as follows: Trout 1 Gallon Water 1 Cup Salt ½ Cup Brown Sugar ¼ Cup Lemon Juice or a Whoopin' Ass Hot Sauce (Optional) Cracked PepperCorns (Put on Fish before smoking-Optional)
If you remove the fish from the Brine let it sit on a rack to air dry for an hour before putting into the smoker. The brown sugar will form a coating on the surface of the meat, this coating will help hold moisture in the meat while cooking. Also, if coating with Peppercorns the sugar will help hold these on while smoking.
——

Baked Steelhead Trout
3lbs Trout fish fillets
2 cups diced celery
1 cup diced onions
1 Red bell pepper diced
1 Green pepper diced
2 cans Italian Stewed Tomatoes
Sauté celery, onions, bell pepper and green pepper in a pan until tender; add two cans of Italian Stewed Tomatoes, cook until heated well. In a glass dish (heat proof) place fish fillets and pour the vegetable mixture over the fish. Bake at 350 for 18-20 minutes and serve with steamed rice.
——
Basil Stuffed Trout
4 tablespoons olive oil
1 pound onion, sliced very thin
1/4 cup balsamic vinegar
1/4 teaspoon salt
freshly ground pepper
4 whole trout (10 to 12 ounces each), cleaned, bone-in
8 large basil leaves
Preheat grill. Soak hickory chips in water for 30 minutes. Heat 3 tablespoons oil in a large skillet. Add onions and cook until golden brown, stirring frequently, about 20 minutes. Add vinegar and cook until reduced and syrupy, about 2 minutes. Season with salt and pepper and set aside. Brush the trout inside and out with remaining 1 tablespoon oil. Place 2 basil leaves inside each fish. Sprinkle hickory chips on fire and grill fish until browned, about 4 minutes on each side.
Serve at once on platter over caramelized onions.
——
Rainbow Trout Cold Dish
2 lbs. Trout fillets
White Wine
Celery (Chopped)
Onion (Sliced)
Dash of Salt
Dash of Pepper Corns
Lemon (Sliced)
Cucumber (Sliced)
Paprika
Bone and skin the fish. Poach the two fillets in a liquid of water, white wine, celery, onion, salt & pepper corns. Poaching of a fish your size should take about 10 minutes. Remove from heat and let cool-refrigerate for several hours. Fish will stiffen up and you will be able to place the fillets onto a serving dish decorated with lemon & cucumber slices-sprinkle with cracked peppercorns and a light sprinkle of paprika.
——
Rainbow Trout with Mushroom Stuffing
4 rainbow trout, cleaned
2 Tablespoons butter
3 green onions, finely chopped
1/2 cup celery, finely chopped
1/4 cup mushrooms, finely chopped
4 Tablespoons bread crumbs
3 tablespoons heavy cream
1 tablespoon fresh fennel, chopped or anise
1 teaspoon chives, chopped 1/2 cup flour
salt and pepper to taste
Preheat oven to 375 degrees. Heat butter in frying pan. When hot, add onions and celery, cook 3 minutes over medium heat. Stir in mushrooms and season well, continue cooking 3 minutes. Add bread crumbs and mix well. Add cream, fennel or anise and chives, cook 3 minutes. Remove pan from heat and stuff trout. Tie with string. Dredge in flour and bake 12 to 15 minutes in oven.
——
MORE RECIPES HERE –> GO!