Pocket Full Of Dynamite by Lyndon Combs
article copyright
No, I am not walking around with a bunch of blasting caps and a plunger waiting to blow something up, but I am packing a handful of hurt for anyone meaning to do me harm. A gun called the Texas Defender Derringer. Now this gun isn't one of those cheap little plastic looking Derringers that sells for less than the cost of a good box of shells. Oh no, this gun is built like a brick sh**house on wheels. No, I don't know what that means, but it sounds good.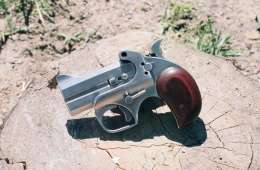 This gun is probably the best built Derringer I have shot since High Standard stopped making their little double action Derringer in .22 magnum. The one I have is a .38/.357 magnum with a satin stainless steel finish. As you can see, my gun looks like the traditional cowboy Derringer, but with a trigger guard. They make one without the trigger guard called the Cowboy Defender that is used very successfully in Cowboy Action Competitions. In fact, this gun has been used to win the World Championship 7 years straight. This ain't your Great-Grandfathers Derringer. This is a whole new beast with the style of the past. Another thing I like about this gun is that it combines two eras of gun production in a functional, deadly little package. Manufactured in Texas by Bond Arms this gun weighs 22 ounces, sports 3 1/2″ barrels, and looks like a cowboy gun, but it is infused with modern features such as rebounding hammer, cross-bolt safety, spring-loaded cammed locking lever (for a tighter barrel/frame fit and Rapid loading and unloading), and the best feature-interchangeable barrels!!!! That's right this gun can be changed to shoot many different calibers. A full list of calibers can be found on the Bond Arms web site. They even have a demo clip of how easy it is to change the barrels. All that has to be done is open the gun, unload it. Then unscrew the Allen screw in the hinge. Remove one set and then screw on another set of barrels. It's that simple. I love the idea of changing calibers. The company also offers some items that can help you personalize your defender like grips, display boxes, and holsters. This is a very consumer friendly gun.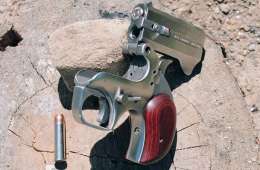 Now I know in the age of high capacity autos, and revolvers that are light and shoot as many as seven rounds some may say this is a gun without many uses, well I disagree. One very good use for this gun that comes to mind when I first saw it, was that with some bird shot it would be a great snake popper, and I think the company promotes this as one of the uses for the little Derringer, but it is not just a snake killer, it is a good pocket gun, a car-jacker's nightmare, a desk gun, night stand gun, and is suited for many other tasks.
I can't speak for any other caliber but the .357 magnum, and any other model but the Texas Defender I have so I am going to keep my comments on the performance of the gun to this model, and caliber. I don't have experience with any of the other Bond Arms guns.
Having tried many rounds in this gun from factory thumpers to hand-loads, from 110 grain to 200-grain bullets, this gun can handle it if you can handle the recoil. The gun, in my opinion, is strong enough to handle any load on the market, but your hand might not. In the .357 the recoil can be harsh, so try it out with .38's first then move up to the level you feel comfortable. I am packing mine with a 158-grain load that I developed myself. In this gun you are not going to be searching for the most accurate load. This gun is meant for up close and personal confrontation so worry about a load that is comfortable to shoot, penetrates to a terminal depth, and allows for a fast recovery for a second shot if needed. The trigger pull is going to be heavy, and the hammer takes some effort to cock so recovery time is important. The heavy trigger is not something to hold the gun back, but a safety measure needed in a small pocket gun, you don't want a hairpin trigger on a gun like this you'll just wind up shooting your big toe off. The functioning aspects of the Bond Arms Derringer is more than acceptable for the jobs it is intended to handle. The only draw back I can see is the single action, and the hammer cocking. The first can be handled with the proper ammo, as I have said, but some ladies may have a Little trouble cocking the gun so keep that in mind. Practice with the gun cocking it (Empty please!! Make sure the gun is empty before you do this work!), and shooting the gun some should help with this problem. Once you learn to shoot the gun, and get used to its handling characteristics you should be fine. I am thinking of trying a set of the .410/. 45LC barrels. I will return with another article on them if I do change the barrels out. If you decide to start carrying this kind of dynamite in your pocket, let the company know who gave you the idea. Good shooting, and remember to be safe.
author website: visit | author bio