Flying Ant by Jason Akl
article copyright
What makes one ant pattern better than another? If you think about it, most of the ants that actually get knocked into the stream are flying ants, that is, they have wings. If that is true, why use an ant pattern that did not include wings? Adding wings with palmered hackle will give your ant pattern an appealing look to fish and the angler alike.
Hatches of fly ants are very important to anglers who want to get out and try this pattern with good success. Flying ants can be observed from April though September. When other patterns are not working, tie on an ant and give it a try.

Flying ant patterns are fished either dry or wet. Matching the profile, size and color is important. Once you get it close to the real thing, you won't have to wait long to get fish to bite. Fish them in rivers and lakes. Look for dead or overhanging tress-that's where ants are likely to congregate.
Tie these flies in sizes 12-16 and look for steady action during the long hours of the afternoon.
Materials Used in the Fly Ant
Hook: Daiichi Dry Fly Hook Size 12 -16
Thread: Black Uni-Thread 8/0
Body: Black Dubbing
Wings: Two Furnace Hackle Tips
Hackle: Furnace Hackle
Tying Steps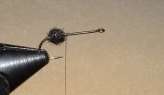 Step 1. Start this fly by placing the hook into the vice securely and attaching the thread to the hook shank. Pinch dub the thread with the rabbit dubbing and build a small round ball at the rear of the fly.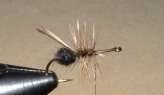 Step 2. Clip 2 fine hackle tips and match them up so that the curvatures are facing towards each other. Tie these two hackle tips in front of the abdomen you just created and them stand them up and divide the wings. Select a fine grade dry fly hackle and tie it onto the hook shank in front of the wings. Palmer this hackle forward, creating a nice bushy thorax for the fly.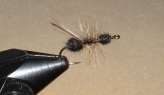 Step 3. Pinch dub the thread once more with the black rabbit dubbing and build another small ball of dubbing for the head of the fly. Whip finish the thread and cement the head thoroughly.
author website: visit | author bio