Mad Dog Pup Kids Bow by Pete Ward
article copyright
Emily is my grand daughter and the tester for this Review. As you can see from the smile, she thinks that the "Pup" is a great little bow.
I told Mike that Emily is tiny, and has very small hands. She only draws 14″ now, and we needed a bow that she can shoot and grow into. The Pup arrived a couple weeks later for this review. To say it is perfect for her is an understatement. The bow fits like a custom made bow should. It also does not look like a kids toy. It is made with the same care and attention, as a bow built for adults would show.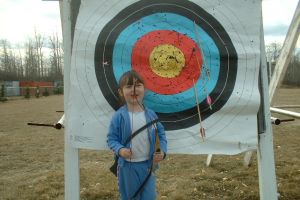 The black glass and Maple/Cherry limbs are very recurved, well tillered and the draw is without stacking out to 21″. This is the draw length Mike has set for this bow. The riser is made from Maple with a center cut shelf and locator grip. I am not sure who likes this bow more, Emily or I.
A lot of kids bows are just toys and kids see this in a hurry. They will not have the same interest with a toy as they do when they see that their bow is just like the adults bows. The Pup is a kids bow that is a scaled down version of the adult recurves. It is a real bow that sticks arrows into targets and can shoot them a considerable distance. This is not a toy and must be used with adult supervision.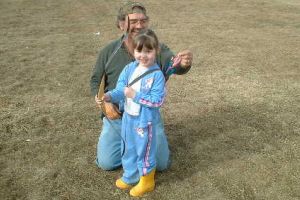 Emily's arrows are only 16″ and 19″ long so this is as far as I could draw it back for my test shots. I was very surprised to see it launch an arrow 55 yards down the Archery range. I am impressed with the performance of the Pup. In keeping with the normal review topics I discuss the "Pup" is a very quiet shooting bow, which should be good for shooting those spooky mice. Having such short legs they rarely duck the string anyway. The pup has no shock or string buzz to distract from the fun it can provide for both the shooter and the coach. This is the first recurve I have tested that does not need silencers but I think I will put some tiny beaver balls on it just for the looks.
These arrows go a long way and stick in she tells me. For kids this is more important than where they hit.
Having fun is what archery is all about. When Emily gets to go with us to shoot we all have fun. Parents need to remember that a child's version of fun may be just shooting arrows down range. That's fine. As they progress they will want to learn to shoot accurately on their own. Then you can start worrying about form and technical stuff.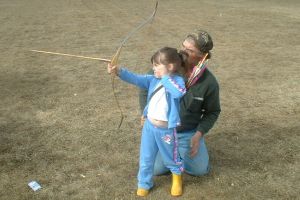 Shooting up close at the large FITA targets provided Emily with instant success. She even got one in the bull's eye. For her that was a great accomplishment and we agree that it was. Share their delight at what makes them feel good and they will want to come back for more.
I installed a small type of no glove on the string for Emily. This I think is a good option for the young ones. They don't need to mess with gloves or tabs. By making their arrows with 4 fletches it also lets them nock an arrow correctly every time. This adds to Emily's enjoyment when shooting the Pup. I can't wait to take her down the 3D course. She wants to shoot the big bad Bear with her new bow.
Give them good gear and they will continue to enjoy the sport for years to come. The Pup fills a child's needs and then some. Mike has done a great job here and he has kept the prices in line with a video game price. The bow is a better choice I think.
Mike has arrows available for the Pup at a reasonable cost. We have a couple and they shoot well for us. Our other arrows are ones we made together from 1/4″ Ramin shafts at 3 Rivers, with 60GR field points and nocks that fit the shafts. I made the fletches from the trim ends of my feathers after cutting my own fletches. Total cost to build a dozen good kids shafts is about $13. The time spent doing this with my grand daughter, priceless.
If you are looking to find a kids bow that is well made and custom built to your specs, I don't think you can go wrong with the Mad Dog "Pup". Ask Mike about heavier draw weights for the older kids that are not ready for full size bows. The "Pup" is as good as it gets for tiny tots. Considering the work and time involved to build these bows Mike is not doing this for money. He is doing this to give our youth a start in the outdoors. Thank you Mike for building a real bow for our children and grandchildren.
The 36″ Pup is available in draw weights from 15 to 40#.
Mike also has a D/R longbow that is 46 -48″ long and also in draw weights of 15 to 40#.
Merchants Website http://www.tradstore.com/mta
author website: visit | author bio