Double Bull Hunting Blind by Pete Ward
article copyright
Center Height 5′ 7″
Shooting Diameter 6′ 4″
Floor Space 5′ X 5′
Cased Size 44" X 10"
Weight 17.5 lbs.
8 Shooting Ports 7″ X 15″
4 ProStaff Viewing Windows 5.5″ X 28″
5″ Scent/Light Flap 5″ X 60″ ea. wall
Available in Recurve Height 6′ 2″
Available w/optional waterfowl zippers $25.00 ea

This is the first year I used a blind that I did not make myself. In previous years I made do with what was available in my wanderings, but after seeing the double bull blind when O.L Adcock was here this fall I decided to give it a try.
I was not all that excited at the Idea at first but as I thought it over and cold weather set in the blind idea became more of good thing. Hunting in Alberta can be cold and this is just a fact we learn to live with. This year I had a break from the cold with the Double Bull blind that O.L Adcock left for me to test. This is an older version model # GH 500 and after many years of use it is still in excellent shape. Today this model is called the T5 Pro staff, recurve height.
Setting it up was a simple task when O.L showed me how. However as I was not really paying attention and I forgot how to do it when the time came to set it up alone.. After all it's just a tent isn't it?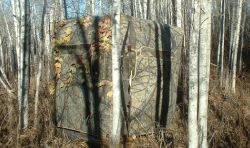 Directions are needed. Read or watch them. It will save a lot of time. I learned the hard way and contacted Double Bull for the instruction video. It arrived promptly and then I saw and now remember just how easy it is. A couple flips and it is set up in a flash. The poles/rods are permanently attached and lock in place with a simple push. It is not difficult. The blind drops around you and then all that is needed is a push on the 5 hubs that connect the rods.
There was room enough for my wife and I to hunt from it at the same time. We used a small heater and on cold days it was good to be out of the wind with a source of heat.
With two 62″ longbows we had to be able to move and let one person shoot. That's a lot of bow for a blind but tip clearance was easily obtained with the non-shooter moving to a corner. When I hunted alone with it I could easily have all the tip room I needed.
I did take only one shot from the blind and I am quite pleased with the results. The broad head cleanly sliced a path thru the window netting and the buck below was the first deer to be taken from the blind and the first victim of my home made decoy. When he came in I was getting lunch. The inside of the blind was a mess with my pack open, thermos out and as usual everything was in the way for any hope of a shot. Had I been in a brush blind like I normally make there would never have been a shot to take. With Pack straps around my ankles and lunch in the way I could not have moved enough to get ready. This was not an issue this day. The only concern was to be quiet while moving around. It worked. He never even noticed all the movement that was happening behind the screens. An important thing here is to make sure you do not have a window open behind and in front at the same time. This will make you visible. As long as the windows do not line up when open you are in good shape.
I am sure now that more deer will fall as I use the blind in the future. I was concerned the arrows would not fly well after the screen was shot thru but they do not show any signs of the screen effecting flight. It is as if nothing is there. I shot several broad head styles thru the screen without any problems at all.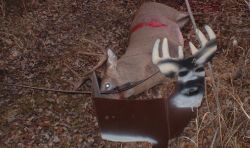 I did not brush in the blind, however it has some fake leaves on it from its previous owner. If you look at the photo it fits in well, and I am not about to build a blind around a blind. Many do, but for it to be useful to me it has to work on it's own and it did.
The blind comes in its own tote bag that has room for a small heater and a 1-pound propane tank, and a folding stool. I wish that I had not been so stubborn in past years. This is a product I should have had a long time ago. It will be used a lot next season.
The newer styles of blinds, Matrix, have larger shooting windows that completely surround the blind and are also available in a recurve size that will allow for those of us that shoot traditional bows to have an easy time with our long limbs.
Merchants Website http://www.doublebullarchery.com
author website: visit | author bio