Van Gorkam Stalker Boots Gear Review by Pete Ward
article copyright
Van Gorkom Boots are a "made for your feet" custom boot that will provide many years of service with normal upkeep. Charles Van Gorkom has been making world class hiking boots for 28 years, and has become widely known to the hiking community, however those of us that are hunters are just finding out about him. Age weight and terrain are all taken into account in building a Van Gorkom boot.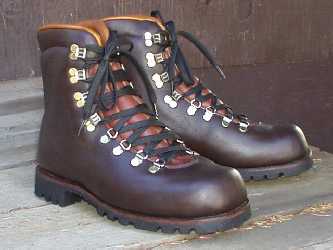 The boots I am reviewing are a new line for Charles that uses the same construction methods as his hiking boot; only they are built for the type of hunting and terrain that I frequent. Unlike the hiking boot that is made with above tree line trips in mind, I wanted a hand made boot that would fit like a glove, and allow for long days in the forest and prairie lands of Alberta. I primarily hunt on foot, stalking and use impromptu blinds, so a flexible lightweight traction sole was decided on.
After a call to Charles we came up with a boot design that sounded like a winner. It would be made with softer and lighter weight leather than the hiking boot and a lightweight Vibram lug sole to provide traction in our gumbo mud. It would also provide strong ankle support and flexibility. I want to feel the ground under foot and be able to kneel down without the usual discomfort to the toes that we get with run of the mill boots and at the same time walk for miles over varying terrain without killing my feet.
Charles was up to the task and the stalkers were born from this Idea. Shortly after a measuring kit arrived in the mail and the "CUSTOM" part became evident. Measurements of each foot and ankle are taken, as well as a tracing of each foot. This is normal practice with many boot makers, but with Van Gorkom Boots the process of building a truly custom boot takes another step. The next step is to rub a bit of Baking soda into a damp sock and stand on a special sheet of litmus paper.
This gives Charles a footprint showing the actual characteristics of your feet and weight distribution for the custom built orthotic foot beds that are made for each foots requirements. If you never had a boot with these, you have never experienced a perfect fit and truly comfortable boots. To see just how these measurements are used I am copying an email from Charles.
Hello Pete,
Remember me? Well, the day has finally arrived, and I've begun your boots. The first step is analyzing your stats and data, and then building a set of lasts. Your right foot is 1/2cm shorter, and is sickle-shaped, so your right big toe would always have problems in off the shelf boots. It looks like you walk off to the outside on your left foot—right also? (Called pronation) Both of your feet have lower volume than the stock boots, and are a little wider, so you'd be walking on the edges of your insole. I think you're going to like what I'm making for you, and don't expect it will require much of a break-in period.
Do tell me, though, if your boots tend to lean to the outside, and wear out the outer edge of the soles. I need to confirm if this is something extreme enough for you to notice.
I hope all is well with you. Charlie Van Gorkom, boot maker.
As you can see from the above e-mail the Van Gorkom boots are custom built for your feet, and not for fashion, although they do look good.
I will copy Charles here with his description of what a Van Gorkom boot is:
"A Van Gorkom custom hunting boot is not, first of all, a special sole, a special lining, a special mid-sole, bells and whistles fancier than any other manufacturer. A "Van Gorkom custom-hunting boot" fits anyone's foot better because each boot is individually designed and built for the foot that will wear it. This is part of why it is more comfortable. It is more comfortable because I don't cut corners on quality leather used in the construction. Calfskin leather lining is more foot-friendly than any other material, and doubles the cost of the materials used in the boots, which is why most other manufacturers don't use it."
The first step in making the actual boot is to carve a "last" or mold of your feet.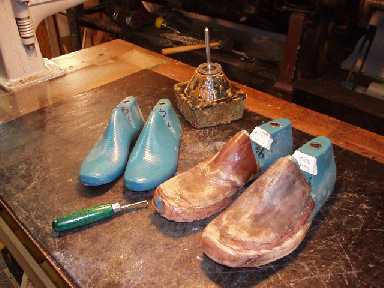 These are stored for future use and are a one of a kind for each foot. From the lasts the boot construction begins and usually takes a full week to complete. There are no shortcuts used with Van Gorkom boots. Each boot is made from 10 square feet of 4 different weight leathers. Every step is labor intensive and meticulously done.
Finally the boots arrived on the promised date. At first glance they were a cut above the rest, but that is just the beginning. I immediately noticed the soft leather lining and well padded ankle support. The tongue is also padded and already formed to lay in position without bunching up under the laces. The foot beds were a real treat to my mis-shaped feet, and it was time to start the breaking period. The first weekend I wore them we had a hot spell, and I am pleased to say that my feet felt good after a couple long days in new boots. Due to the heat I was sweating and the breaking seemed to be a very short duration.
Along with the normal comments a feature that I discovered is how easy they go off and on. Most boots are "pulled" on and this usually affects the sock fit and comfort when the sock gets stretched. The stalkers open up when the speed laces are undone and my feet basically drop in to them without any pulling or tugging. When they are unlaced to the bottom of the speed laces I can step out of them. My socks never get forced out of position and bunched up where they should not be.
The padded uppers, ankles and tongue provide a great comfort level and give excellent ankle support. I have broken and sprained my ankles in the past so support here is very important to me.
I have spent 10 days in the stalkers so far and I have not suffered any blistering or hot spots on my feet. The comfort level is the best that I have ever felt. These boots are sturdy, yet soft and flexible with good traction.
I have several pair of other boots that I considered very comfortable but the stalkers are a new level in comfort. There are no seams to let go or leak on the stalkers. The outer boots are made with a single piece of leather that is reinforced and stitched on the back only. Most boots are made from many pieces sewn together, and this is where we loose comfort and durability as seams are weak points that leak and cause pressure points and sore spots.
These boots are also designed to be resoled. The life expectancy of a lightweight stalker sole should be about 5 years before it will need a new sole.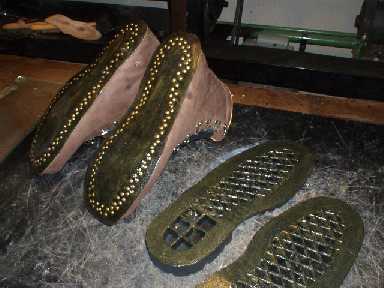 This will vary with the amount of use and the terrain. Wearing them on concrete and asphalt will wear a sole out much faster than a forest floor.
I will highly recommend the Van Gorkom Boots. They are a new level in comfort and I see no reason to doubt the durability. These are a leather boot, and will be waterproof if you do your part in maintaining them. They are not rubber boots!! However my past experience with leather boots is they are waterproof within reason. Leather is my preferred boot material and care of them is not a big issue with me.
If you are looking for a well-made custom fit, hand crafted boot a call or email to Charles is a good place to start. He will discuss the type of construction and weights to come up with a fully functional boot built for your feet and use. There are several soles and leather weights available to suit any type of hunting from Goats and Sheep to Elk or Antelope a boot can be built to suit your needs. Hard or soft toes are available to suit your preferences. Van Gorkom Stalkers can be ordered to meet the conditions you expect to wear them in, from high mountain terrain to the prairie grasslands.
I will be wearing these boots for a long time to come and you can expect to see frequent updates and photos as time goes by over the next few years.
Merchants website http://hikingbootshandcrafted.com
author website: visit | author bio