Beer Catfish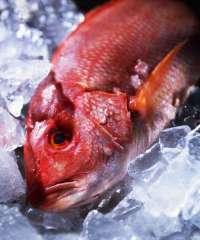 2 c Self-rising flour
1 c Beer; (your favorite brand garlic powder; to taste
Salt and pepper; to taste
4 3-5 oz. catfish fillets; cut
Vegetable oil; for frying
Combine 1 cup flour, beer, garlic salt, salt and pepper in a bowl. Mix well. Dip catfish strips in remaining flour and then in batter. Fry in hot oil in a deep-fryer or skillet until golden brown. Drain on absorbent towels. Serve hot.
——

Bayou Catfish Balls
2 lb Catfish fillets
1 ts Hot sauce
Salt (to taste)
Pepper (to taste)
3 Eggs (beaten)
1 1/2 c Cornmeal
Cooking oil
Rub fish with hot sauce, salt and pepper. Set aside for 1 hour or more. Cut fish into bite-size pieces and dip into eggs. Roll in cornmeal. Fry quickly in deep fat for 2 or 3 minutes, or until golden brown. Drain.
——
Blackened Cajun Catfish
4 (6-ounce) catfish fillets
1/3 cup butter, melted
2 tablespoons fresh lemon juice
1 tablespoon dried thyme
1 teaspoon salt
1 teaspoon cracked black pepper
1 teaspoon paprika
1 teaspoon garlic powder
1/2 teaspoon crushed red pepper flakes
1/3 cup dry white wine
Heat a large cast-iron skillet over medium-high heat for 10 minutes, or until hot.
While pan heats, rinse fillets and pat dry. Mix melted butter and lemon juice in a small bowl. In another small bowl, combine thyme, salt, pepper, paprika, garlic powder and red pepper flakes; mix well.
Brush fillets on both sides with butter mixture and sprinkle evenly with seasoning mix. Place fillets, skin side up in pan cook on both sides until fish flakes easily with a fork, about 6 minutes total.
Remove catfish from skillet and hold warm. Pour wine and any remaining butter mixture into pan. Bring to a boil and spoon over catfish. Serve immediately.
——
MORE RECIPES HERE –> GO!