Belgium Battered Walleye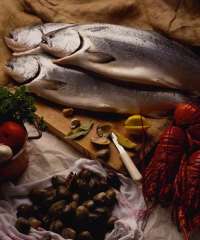 Very simple but unique tasting recipe here.
Take walleye fillets, pat dry then dredge through whipped egg, then put in large zip bag with Belgium waffle mix. Shake well. Either deep fry or fry in skillet with vegetable oil. Cook until golden brown. Very sweet tasting.
——
Potato Flake Walleye
4 to 6 Walleye Fillets
Cajun Injector Flavor Shake
2 eggs
1 cup milk
2 tbsp parsley flakes
2 cups instant potato flakes
1/3 cup shortening
1/3 cup butter

Begin by beating eggs, milk and parsley flakes together in a small bowl. Season both sides of the walleye fillets with Flavor Shake and dip it into the egg mixture. Then dip the fillet in the potato flakes and coat both sides. Once coated place in a frying pan with the shortening and butter all ready melted. Fry until golden brown. You will love the crunchy coating that the potato flakes adds to your fish.
——
Fried Breaded Walleye
Salt a 2 1/2 lb walleye cut into 1-1 1/2 inch pieces or 1 1/2 lbs walleye fillets and refrigerate for 1 hour.
Dredge in flour, dip in beaten eggs and roll in a mixture of 1 part fine bread crumbs and 1 part flour. Press in breading and fry in 1/4 inch hot oil on all sides until golden then transfer to baking dish, dot with butter, cover, and keep in 300 degree Fahrenheit oven for 20 minutes.
——
Simple Marinated Walleye
Fillet and skin walleye. Wash fillets and, if preferred, soak in solution to remove oil.
Place fillets in medium plastic container bag (storage or freezer type). Add enough Italian salad dressing to cover the fillets (Wishbone or Italian works well). Close the bag tightly and place in the refrigerator for at least four hours, turning the bag several times to be sure all parts of the fillets marinate.
Remove the fillets and place onto large pieces of aluminum foil, one fillet per sheet. Leave enough dressing with the fillets to keep them moist. Fold the aluminum over the fillets and seal each package.
Place each package of aluminum on a hot outdoor grill. Cook several minutes on each side, then carefully open the package (careful – it will let out hot steam). If not done, close up and continue to cook until fish flakes.
——
MORE RECIPES HERE –> GO!