Baked Crappie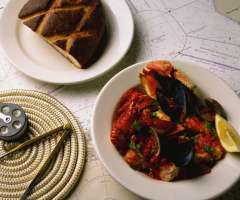 6 Crappies (approx. 3 lbs.)
1 stick butter
Dash O'Lemon
Fresh parsley (chopped)
Cajun Spice
Coat the bottom of an oven proof pan with butter. Place Crappie fillets in pan, pour melted butter over fish and sprinkle each fillet with Cajun Spice and the chopped parsley.
Bake in a 400 degree oven until the fish is done, about 20 minutes. When you remove the fish from the oven, sprinkle it liberally with Dash O'Lemon. Serve immediately. Serves 6.
——

Chipper Perch
Perch Fillets
1 cup crushed potato chips
1/2 cup casear salad dressing
1/2 cup shredded cheddar cheese
Dip fillets in dressing, place skin side down is a single layer in a greased 15 x 10 x 1 baking dish. Sprinkle crushed chips and cheese over fillets. Bake at 500 degrees 10-15 minutes.
——
Fried Bass
1 1/2 pounds of smallmouth bass fillets
1/4 tsp. salt
1/8 tsp. pepper
1/2 cup flour
butter or margarine
1 cup or more sliced fresh mushrooms
1/4 cup green onions
2 tbls. dry white wine
1 tbls. lemon juice
Place flour on a plate. Sprinkle fillets with salt and pepper, then dredge lightly in flour.
Melt 2 tbls. butter or margarine over medium heat. Fry the fillets until golden brown on each side and remove to a plate, keeping them warm. If necessary add more butter or margarine to the skillet and add mushrooms and green onions. Cook for 3 minutes, stir in wine and lemon juice. Pour this mixture over the fish and serve.
——
Fried Perch
Salt 1 hour before frying, sprinkle lightly with fish seasoning, and apply one of the following coatings before frying: Simply dredge in flour and shake off excess, then fry until golden in 1/4 inch hot oil. Since the flour gives only a thin coating, cooking time will be shorter than in the following method:
Dredge in flour, dip in beaten eggs (to which a Tablespoon of beer may be added), roll in fine bread crumbs or a combination of flour and bread crumbs, and fry as above to a crusty golden brown.
Creamy horseradish & mayonnaise sauce will perk up the flavor of your fried perch. Simply fork-blend 3/4 cup mayonnaise with a heaping Tablespoon of prepared horseradish (non-creamed variety), season with salt, sugar, and lemon juice to taste and add 1-2 Tablespoons of finely chopped chives.
——
Grilled Bass
Bass, filleted
1/4 cup orange juice
1/4 cup extra virgin olive oil
1/6 to 1/4 cup prepared (plain or fancy, i.e. Grey Poupon) mustard
1/4 cup apricot preserves or orange marmalade.
Blend together last four ingredients and cover fish fillets with the marinade for 2 hours.
Make a fire on one side of a covered grill.
Place fish in a wire basket and grill (covered) on the side without the flame for about 7-10 minutes per side. Baste with remaining marinade while grilling. Finish briefly on the flame side but be careful that the marinade does not blacken.
——
MORE RECIPES HERE –> GO!