Elk Cabbage Rolls
2 lb Lean Ground Elk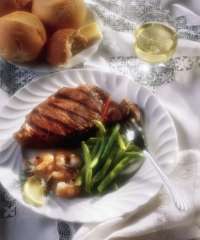 1/2 cup Rice (uncooked)
1 medium Onion (Diced)
1 Green Pepper; (Diced)
2 Eggs 1 Cabbage (large head)
2 qt. Tomato Juice
1/2 tablespoon Garlic (crushed)
1/4 tablespoon paprika
1/2 tablespoon chili powder
Prepare the cabbage leaves:
The Old timers would freeze the head solid, then peel the leaves from the head as they thawed. The best way is to cut the core out with a knife, then put the hole where the core was, side down in a steamer over boiling water. Let it sit for about 10 minutes and remove. Several layers of the outer leaves should be soft enough to remove from the head. When you've removed as many as you can, return the head to the steamer to soften more leaves. Take a sharp knife and remove as much of the central vein as you can.

Filling:
Mix all the other ingredients together in a bowl work it with your hands until the eggs and other inredients except the tomato juice are thouroughly mixed into the meat. Now, take a glob of mixture and set it in the hollow of a deveined leaf, with the end that was near the core towards you. Fold the end nearest you about half way over the mix. Fold the left side over the mix and then the right side. Roll about half turn away from you so that the "seam" is on the bottom. Place in the pan seam side down and continue with the other leaves. When you've made the last cabbage roll, pour in the tomato juice to cover. Bring to a boil then simmer for at least an hour. Serve with the remaining juice poured on top.
——
Elk Meatloaf
1 1/2 cups stale bread crumbs
1 minced pimento or green pepper
2 cups stock
3 cups ground elk meat
2 slices fat salt pork, diced
1 large minced onion
1 1/3 cups cooked rice
l 1/2 teaspoons poultry seasoning
1/4 teaspoon paprika
2/3 teaspoon salt
1/4 cup tomato catsup
1 large mince onion
Soften the crumbs in the stock, add them to the ground meat with the seasonings and rice. Blend thoroughly, turn into a greased pan, a bread pan is good, and bake in a moderate oven about three- quarters of an hour, basting two or three times during the baking with a little melted bacon fat or drippings.
——
Elk Parmessan
1 1/2 lb Elk steak, boneless
1/4 ts Garlic salt; to 1/2 ts.
1/8 ts Pepper
1/2 c Bread crumbs, Italian
1/2 c Cheese, Parmesan; grated
2 Eggs
1/4 c water
1/2 c Flour
1/4 c Oil, olive/vegetable
1 1/2 c Sauce, spaghetti
6 Cheese slices, Mozzarella
Noodles; hot cooked
Parsley, fresh; snipped
Cut meat into six pieces; pound with a meat mallet to tenderize. Sprinkle with garlic salt and pepper.
Combine bread crumbs and the Parmesan cheese in a bowl.
In another bowl, beat eggs with water. Dip both sides of meat into flour, then into egg mixture. Press each side of meat into crumb mixture; refrigerate for 20 minutes. Heat oil in a large skillet; brown meat on both sides.
Place in a greased 13x9x2″ baking pan. Spoon 2 tablespoons spaghetti sauce over each piece. Cover with mozarella; top with remaining spaghetti sauce. Bake, uncovered at 350 degrees for 30 minutes or until meat is tender. Serve over noodles; garnish with parsley if desired.
——
Elk Pepper Steak
1 lb Elk sirloin
1 c Sliced bell peppers
1 Sliced red onion
8 oz Pack fresh mushrooms
1 Clove fresh garlic
1 tb Soy sauce
1/2 ts Salt
2 tb Olive oil
Cut the sirloin into strips. Heat olive oil in a skillet, add garlic, soy sauce, onion, and elk. Sauté until browned. Add remaining ingredients and simmer, covered until vegetables are tender, stirring occasionally.
——-
MORE RECIPES HERE –> GO!