Fall Apart Moose
2 Onions; medium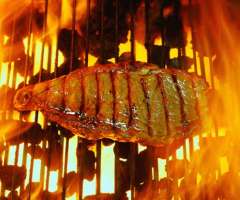 1 lb Alaskan sweet carrots
4 lb Moose rump roast
2 Cloves garlic
2 c Water
1 pk Onion soup mix
Salt
Pepper
2 tb Cornstarch
2 Beef bouillon cubes
Use a large slow cooker on high temperature setting. Dice onions and carrots and put in slow cooker. Add moose roast. Slice garlic in small pieces. Add water, garlic and onion soup. Salt and pepper to taste. Cover and cook for 4 hours.
Drain juice from meat into saucepan. Add bouillon cubes. Bring juice to boil. Add cornstarch and stir until juice turns thick and clear.

Pour gravy (juice) back into the slow cooker with the moose and carrots/onions. Cook for another hour.
When done, slice moose in thin slices. Place in center of serving platter, garnish with carrots and onions. Pour a small amount of gravy over moose and serve. Mashed potatoes, rice or baked potatoes are fantastic with the remaining gravy.
——
Moose Pie
1 1/2 lb Moose steak, cubed
1/3 – 1/2 c. flour
1 md Onion, chopped
1 Clove minced garlic
3 tb Oil
2 c Water
2 tb Worcestershire sauce
1 ts Marjoram
1 ts Thyme
1 ts Celery seed
1 ts Salt
1/2 ts Pepper
1 Bay leaf
Diced potatoes & carrots
Frozen peas or green beans
Pie crust
Shake cubed steak in plastic bag with flour, a few cubes at a time. Brown moose and onions and garlic in heated oil, until Moose is brown. Add water, herbs, Worcestershire sauce, salt and peppers. Bring to a boil, reduce heat, simmer 1 1/2 hours. Add potatoes and carrots, cook approximately 30 to 45 minutes longer. Add peas. Pour into pie pan. Cover with pie crust, flute edge, cut slits in top. Bake 15 to 20 minutes or until crust is nicely browned.
——
Moose Swiss Steak
3 lb Moose round steak
1 cn Tomato soup diluted with 1/2 can water
Meat tenderizer
Flour
3 Stalks celery, sliced in 1 Inch pieces
1/2 c Shortening
2 c Water
1 Green pepper, chopped
2 Tsb salt
1 md Onion, chopped
1/2 Tsb black pepper
1/4 ts Basil
2 ts Worcestershire sauce
Cut meat in serving-size pieces. Sprinkle on meat tenderizer. Dust meat with flour and rub it in. Brown on both sides in hot shortening. Place in baking disk and add water, salt and pepper. Bake in 325 degree oven 2 hours. Add remaining ingredients, and more water if necessary. Bake 1 hour more, or until meat and celery are tender. Removed meat from pan. Stir pan juices, scraping sides and bottom. Use this as a gravy to be served with meat or on mashed potatoes.
——
MORE RECIPES HERE –> GO!