Brandied Quail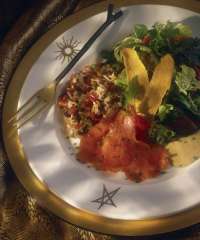 4 Quail
1 Stick Butter — clarified, divided
1/2 c Currant Or Apricot Jelly
ts Salt
2 tb Brandy — or to taste
Cut quail into serving pieces, using breasts only or breasts and legs if you wish. Brown slowly in 1/2 of butter for about 1/2 hour. When nicely browned on all sides, push to one side and add currant or apricot jelly to the drippings. Add remainder of butter, a dash of salt, and stir well while the jelly melts. When sauce is well blended, spread the browned pieces of quail out again and baste with the sauce.
Cover and let simmer until meat is fork tender. Skim off fat and add brandy to the mixture. Amount depends solely upon taste preference. Stir in brandy just until heated and serve.
——

Grilled Breakfast Quail
1/2 c Butter or margarine; melted
1/8 ts Garlic powder
1/8 ts Salt
8 ea Quail; cleaned
8 sl Bacon
Combine butter, garlic powder, and salt; brush on all sides of quail. Wrap 1 slice bacon around each quail; secure with wooden picks. Grill quail over hot coals 45 to 50 minutes or until done, turning once. Remove wooden picks, and serve immediately.
——
Brunch Quail
4 Quails
Salt and pepper
Flour
1/4 c Butter
1/2 c Water
6 Mushrooms; sliced
2 tb Parsley; chopped
4 sl Toast; buttered, or trenchers (see Note)
Sprinkle quails inside and out with salt, pepper, and flour. Melt butter in a skillet; add quails and brown on all sides. Add water and mushrooms. Cover and cook over low heat 10 minutes. Add parsley, cover, and cook 10 minutes longer, or until tender. Serve on buttered toast or trenchers with mushroom sauce from pan. Applesauce is a good accompaniment.
Note: To make trenchers, cut Italian bread into 2-inch-thick slices, or cut large rolls into halves, selecting bread or rolls slightly larger in size than a quail. Scoop center from each to make a cup to hold the bird. Butter and toast lightly.
——
MORE RECIPES HERE –> GO!