Southern Venison Stir Fry
1 lb Diced or cubed Venison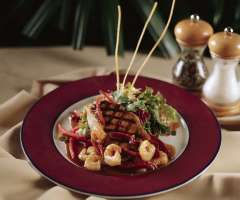 2 medium to large Bell Peppers sliced
1 large Vidala or White Onion sliced (optional cut pole beans)
Worcestershire sauce
Italian Dressing
1 tbs. Vegetable oil
1 cup of Rice
First mix 1/4 bottle of Italian dressing and 1/8 cup of Worcestershire sauce together in a medium bowl. You can add meat tenderizer in mix if you prefer.
Add meat to the mix and let it marinade in the refrigerator for at least 1 hour however, all day or all night and day is acceptable for a more robust flavor. Cook the rice so it can set while you cook the meat. In a non-stick skillet, pour 1 tablespoon of Vegetable oil and heat at medium high. Add the meat with the marinade and cook 10 – 15 minutes or until slightly cooked on all sides. Add the Bell Peppers, Onions, and a few sprinkles of Worcestershire sauce on the vegetables.

Reduce heat to a medium low or low, stirring occasionally. Cook until vegetables are tender or flimsy. Remove from heat and serve over or beside the rice. Should feed 3 – 4 persons.
——
Venison Bologna
15 lb. ground venison
2/3 cup Morton Tender Quick salt
1/2 qt. vegetable oil
1/2 tsp. black pepper (per lb.)
1/2 tsp. garlic salt (per lb.)
8 tsp. Accent
1 1/2 tsp. liquid smoke
1/2 cup brown sugar
Mix all ingredients except liquid smoke and oil together. Let stand in refrigerator overnight. Next day, mix liquid smoke and oil together before adding to mixture. Mix everything thoroughly now.
Pack tightly into 9 or 10 Pringle cans or other tubular cans, leaving 1/2 inch space at top. Bake, uncovered, in cans (upright) at 200 degrees for 4 hours. Drain; cool and wrap in many layers of freezer paper. Freeze.
——
Venison Jerky
3 pounds venision — sliced super thin
1 bottle Liquid Smoke
1/2 cup black pepper
1/4 cup seasoned salt
1/3 cup dry onion powder
1 dash lemon pepper
1 dash paprika
2 tablespoons garlic powder
1 dash cayenne pepper
Use a large container with lid. Mix all ingredients (vary spice to your taste). Add meat. Shake well. Refrigerate 24-48 hours shaking often. Spread in dehydrator. This takes usually about 36 hours.
——
Venison Meatballs
1 1/2 lb venison, ground
2 c sour cream, divided
2 tb catsup
1 1/4 ts salt
1/4 ts pepper
1/2 ts garlic salt
1/2 ts oregano
1 tb oil
1 tb water
2 ts dill weed
paprika
Combine venison, 1/4 cup sour cream, catsup, salt, pepper, garlic salt and oregano. Shape into meatballs the size of walnuts.
Brown meatballs in hot oil. Pour off any excess oil. Add water, cover and simmer 15 minutes. Remove meatballs to your serving dish.
Combine remaining sour cream, salt and dill in skillet in which meatballs were cooked. Heat through and pour over meatballs. Sprinkle with paprika.
Serve with rice or noodles.
This will serve 6 for dinner or more as appetizers.
——
Venison Picatta
1 1/4 pounds deer loin
2 cups milk
1/2 cup all-purpose flour
1/2 teaspoon salt
1/2 teaspoon pepper
1/4 cup butter
3/4 cup dry white wine
1/4 cup butter
2 1/2 tablespoons fresh lemon juice
1/4 cup snipped parsley
3 tablespoons capers
Slice loin across the grain into 1/4-inch or thinner slices, combine with 1 cup of milk in shallow dish. Cover dish and refrigerate for 1 to 3 hours, then drain and discard milk. Add remaining 1 cup of milk and let stand at room temperature for one hour. Drain and discard milk, then pat venison slices dry.
On a sheet of wax paper, mix flour, salt and pepper, then thoroughly coat venison slices. In a large skillet, melt butter over medium heat, then add venison and brown on both sides. Add wine and cook for two minutes. Transfer venison slices to heated platter with slotted spoon. Add lemon juice, parsley and capers to skillet, reduce heat to medium and cook about two minutes, scraping bottom and sides of skillet. Serve sauce over venison slices.
——
Bar-B-Q Venison Ribs
1 c Catsup
1/4 c Vinegar
1/4 c Worcestershire sauce
1 ts Salt
1 ts Pepper, black
2 ts Chili powder
1/4 ts Cayenne pepper
2 Onions, finely chopped
1 1/2 c Water
Split washed ribs into spareribs. Cover with sauce, cover the pan and bake in a moderate oven (350) for an hour. Uncover and continue to bake for another 30 minutes. Turn during last half-hour several times, to brown.
——
Fried Deer Heart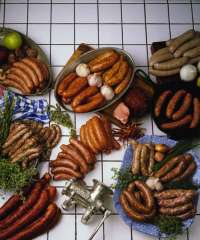 1 Deer heart per person
6 tb Flour
8 tb Cracker crumbs
1/2 c Milk
2 tb Bacon fat or oil
Salt & pepper to taste
Slice deer heart thin, add salt and pepper. Roll in flour, dip in milk, and roll in cracker crumbs, and fry on both sides to golden brown. Eat now or add broth and simmer for 3 to 5 minutes. Drain and serve hot. Hearts can be washed and marinaded if desired.
——
Country Fried Venison Steak
2 lbs. lean venison round steaks pounded until tender
3 Tbs. flour
1 c. whole milk
1 c. water
1-1/2 tsp. salt
3/4 tsp. black pepper
Flour seasoned with salt & pepper
Cut steak into serving size pieces. Dredge in flour seasoned with salt & pepper. Brown in skillet in fairly deep hot oil until golden and crispy on both sides. Remove with slotted spoon and set aside. Pour off all but 1/3 of oil from frying. Stir in flour, salt and pepper and blend well until mixture is lightly browned. Stir in milk and water and cook, stirring, until gravy is a little more thickened. Season gravy to taste with pepper. Add steak back to pan. Cover and cook on low heat until meat is very tender. Remove steaks with slotted spoon. Serve with mashed potatoes and gravy spooned over the top. Serves 4.
——
Hawaiian Venison
1 lb Boneless Elk/Deer round steak
1/4 c Flour
2 tb Margarine or butter
1/2 c Boiling water
1 ts Salt
2 Or 3 green peppers
1/2 c Pineapple chunks
Sauce
2 1/2 tb Cornstarch
1/2 c Pineapple juice
1/4 c Vinegar
1/4 c Sugar
1 1/2 tb Soy sauce
Cut steak into 1-inch cubes and dredge with flour. Brown meat cubes on all sides in hot fat. Add water and salt. Simmer gently until meat is tender. Clean green peppers and cut into 1-inch squares. Boil 10 minutes and drain. Add pepper squares and pineapple chunks to browned meat.
Sauce: Combine cornstarch, pineapple juice, vinegar, sugar and soy sauce and cook until sauce is clear and thick. Pour sauce over meat mixture and simmer 5 minutes. Serve over Chinese noodles or cooked rice.
——
Venison Backstraps
1 Whole venison backstrap
1/2 lb Bacon slices
1 tb Salt
1 tb Black pepper
1 ts Garlic powder
An easy recipe for venison backstrap is to cut it lengthwise into 3 equal strips. Season to taste (salt, pepper and garlic powder) then roll each strip up, circle with a slice of bacon and secure with a toothpick. What you should have will look like a filet mignon and after you grill it rare over coals will taste twice as good.
——
Bar-B-Q Venison Chops
20 Venison chops
6 oz Beer
1 lg Onion, chopped
4 Pats of butter
2 oz Garlic
Place aluminum foil on hot grill with sides folded up, so there is no runoff of juices. Place chops on foil. Add beer, chopped onion and butter. Sprinkle garlic salt on chops each time you turn them. When chops are done, remove foil from grill. Place chops back on grill and sprinkle with garlic salt each time you turn them until charcoal black.
——
Venison Pot Roast submitted by Becky DeYoung
2-3 pound Boneless venison shoulder or rump roast
2 tablespoons DeYoung's Fore Seasons spice blend
2 tablespoons butter
1 cup V-8 juice
2 cloves garlic minced
1 cup diced onion
1/2 cup diced carrots
1 cup diced celery
2 beef boullion cubes
Your favorite buttered noodles
Trim all excess fat from venison. Sprinkle each side of roast with 1 tablespoon of DeYoung's. Melt butter in dutch oven. Brown roast in butter on all sides.
Remove roast and saute all vegetables in the pan drippings for 2 minutes. Return roast to pan, add V-8 juice and beef boullion cubes. Bring to a boil and then reduce heat to a simmer. Cover for 1-2 hours or until tender. Serve over your favorite buttered noodles!!!
——
MORE RECIPES HERE –> GO!