Blackened Salmon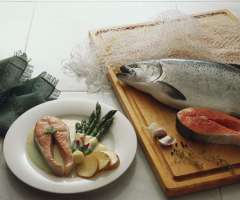 4 Salmon fillets (6-8 oz each)
3-4 tsp. Blackened Red Fish Magic Spice
1/2 lb. Unsalted butter (melted)
The Salmon from the Great Lakes are usually very fat-for the best results the fillets should be skinned before cooking.
To blacken any fish-Salmon included-you will need a Cast Iron Skillet, unsalted butter, Red Fish Blackened Spice or Seafood Magic Spice (depending on how spicy you want fish).

Melt 1/2# butter, dip fish portions into melted butter than coat fish (both side-well) with spice. Your should have skillet very hot with a coating of unsalted butter in bottom of the skillet-cook the fish until the spice has a nice golden color and turn over and repeat on other side.
You use unsalted butter to help reduce the smoke from the high heat-you could use Peanut Oil if you do not have unsalted butter. This type of cooking will produce a lot of smoke-best to do this cooking outside. If the Red Fish Blackened Spice is to spicy for you then use Seafood Magic Spice (less spicy).
——
Charbroiled Salmon
1 cup soy sauce
1/8 cup red wine
1/2 teaspoon ground ginger
1/2 teaspoon ground black pepper
4 salmon steaks
Lemon wedges
Combine soy sauce, red wine, ginger, and black pepper in a large, sealable plastic bag. Seal, and shake vigorously to mix ingredients. Add salmon steaks, squeeze out excess air and seal. Refrigerate, turning frequently, for no less than 2 hours. Cook on a hot grill for about 5 minutes per side, basting freely with extra marinade.
Serve with lemon wedges for accompaniment.
——
Grilled Salmon Ceasar Salad
Firm, fresh salmon fillets are first grilled and then served warm atop crisp romaine lettuce hearts tossed with parmesan cheese, toasted almonds and a classic garlic-anchovy dressing.
4 servings
1 1/2 pounds fresh salmon fillet
salt and freshly ground black pepper
1/2 teaspoon cayenne pepper
1/2 teaspoon chili powder
1 large egg
3 garlic cloves, peeled
4 anchovies
1 tablespoon red wine vinegar
1 tablespoon Worcestershire
juice of 1 lemon
juice of 1 lime
olive oil
2 heads romaine lettuce, outside leaves removed and discarded
1/2 cup slivered almonds, lightly toasted in a 325 degree oven
1/2 cup fresh grated parmesan cheese
1 cup seasoned croutons
Season fillets with salt, pepper, cayenne and chili powder. Grill or broil fish until done. Keep warm. In a blender, process next 7 ingredients until well blended. While motor is running, add oil in a thin stream until dressing is thickened. Roughly chop lettuce, place in a large bowl with remaining ingredients and dressing and toss well. Place equal portions on plates. Top with warm salmon.
——
Salmon Spread
1/2 pound salmon fillet, sautèed with white wine and a little butter until just-cooked and then allowed to cool
6 ounces cream cheese softened at room temperature
1 lime, juice only
1/4 cup fresh chives, minced (or substitute green onions)
3 tablespoons fresh herbs, whatever looks good in the store or garden, minced
1 garlic clove, minced
salt and pepper to taste
With your hands or a fork, shred salmon, breaking up any pieces or chunks. Combine with remaining ingredients and blend until smooth. Serve with crackers.
——
MORE RECIPES HERE –> GO!