Wingshooter Target Thrower by Pete Ward
article copyright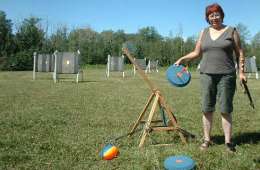 The wingshooter disc thrower is made to have fun with, and it delivers. It will throw 1 or 2 foam discs, Nerf footballs, or any other thing you can think of. I have had it for a short time but have shot a lot of arrows at Arial targets in this time. It has the best fun value of any other thing I have reviewed to date.

The thrower is made from Red Oak with steel shafts that are held in place with quick pins. Assembly takes only minutes and without tools. Each part of the frame is numbered for easy assembly. The original assembly called for sand bags to hold down the wingshooter, however this was not to my liking. I have been using the screw in dog stakes with rubber bungee chords to secure the it, and they are much easier to pack around. Roger is updating his information to suggest this method. I also moved the trip cord to the dog stakes. This allows me to trip the thrower with a straight pull from the front instead of pulling against the frame side when you use the screw eye that is installed for this.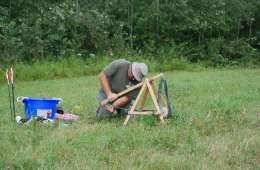 The Wingshooter is quickly adjustable to throw vertical or horizontal targets. When I get better at hitting them I will be launching them horizontally away from me like a flushing Pheasant. Until then a vertical target is proving enough of a challenge for us.
We have made up additional targets and purchased some small foam footballs in addition to the 2 foam discs and single football that come with the Wingshooter. Smaller lighter targets are obviously thrown higher and faster, so if you think you are good; try a 4″ Diameter football, or a 6″ single Ethafoam foam disc. Storage and handling is easy, I use an old compound bow case. Everything fits inside and it is ready to go on a moments notice.
To set up for shooting, the throwing arm is cocked and the trigger set. The trip cord is about 20 yards long and has a loop that rolls onto your foot for releasing the targets. This allows you to shoot alone or with a group. I really like this, as it is always a problem with getting a person to toss bow-birds for me. I get bored shooting against a wall at paper and often the mosquitoes are just too bad to shoot the 3D courses. The Wingshooter is just the ticket. We can spend hours shooting in the field and every shot is a bit different. It is hard to get bored shooting at a target that is so challenging, and so much fun. After all traditional bows are supposed to be fun and the Wingshooter delivers a ton of it.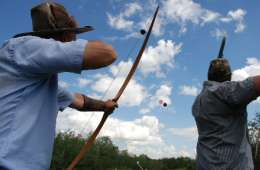 The wingshooter is a very simple machine that works perfectly every time. It is not very heavy and assembly is quick, easy and simple. Each Wingshooter comes with a DVD, 2 Foam disc targets and a Nerf Football. You need to supply your own Flu Flu's. This is a target launcher that anyone can enjoy and it should be in every clubs target room. At the ATBA jamboree last week I set it up for some fun. There is no doubt that it was well liked and well looked over. Everyone seemed very impressed at the simplicity and how well it worked.
I am very impressed with the Wingshooter Target Thrower and I will be bringing it to many of the shoots I go to. This is one great toy that I am sure will be popular with everyone that shoots over it, no matter what age they are. I don't feel bad when I miss, but I do feel great on those times everything goes right and the target is hit.
I took the wingshooter to a mixed shoot this weekend and introduced a group of compound shooters to bow-birds and longbows. They had a great time with it, and want their club to buy one. Considering the cost of 3D targets there is a lot of value in the Wingshooter. More targets are cheap and easy to make from a sheet of 2″ Ethafoam, for kids it will even throw those old worn out stuffed Teddy Bears. If it will fit in the holder slot or on it, the Wingshooter will throw it. This is the most fun type shooting I have ever had, and I will be bringing the wingshooter to camp this fall for the mid day breaks. Who knows, but with practice I may even get good enough to take a live bird on the wing some day.
author website: visit | author bio